just wanted to take some time to reflect on all of the goodness i've been given from the Lord.
i have been blessed beyond belief with an amazing talent for color and design and the ability to put it to use in the scrapbooking and papercrafting arena.
a little over a year and a half ago, i was teaching classes at a small store in Massillon, OH--ScrapHappy. through that experience, i met some amazing women who i got to know and trust. one of my favorites was a fun little class every month called card club. the same 11 ladies, every single month---the first thursday of every month---gathered at the store to learn new cardmaking techniques that could also transfer over into scrapbooking. fun, fun times. card club lasted a whole year before i decided to step away from teaching midway through my pregnancy with emma due to preterm contractions.
anywho....during that same time, i joined my very first design team at ScrappersAnonymous.com. i had the opportunity to showcase some fabulous product, make some lasting friendships and just simpy learn and grow as a designer.
i'll cherish my very first design team layout forever! product was donated by the fabulous K&Company.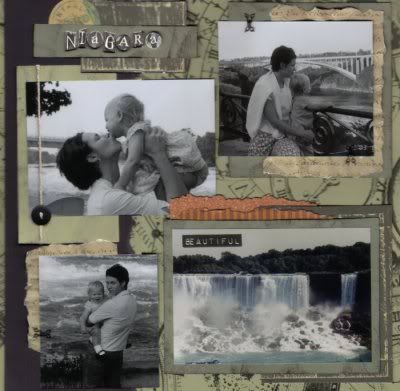 both of those experiences led to ONE amazing opportunity. i attended an event called CKU-R in Nashville, TN. an event strictly for scrapbook retail store owners and their staff. i went along, hoping to learn a bit more about the industry, pick up a few tips/tricks from the manufacturer's themselves on how to better incorporate their products in my classes and just simply to say "thank you" to the manufacturer's who donated so graciously to the design team at scrappersanonymous.com. as i packed my bags i decided to add an album with a sampling of the work i had created using those donated products. thankful that i did.
one night, there was a make-n-take session. a bit different from the normal CKU where you are free to roam to whichever booths you want. at the retailer event you had to choose prior to the event which track you wanted to be in. they only listed the major manufacturers....on a whim, i just chose one blindly. so, the night of the make-n-take, i am moving from table to table and suddenly realize i am sitting at Pinecone Press's booth. just out of curiousity, i ask one of the girls teaching the technique, "how does someone pitch a book idea to you?" they said....."here's the gal you need to talk to." and they introduced me to debra jennis. of course, i had no intentions on really pitching a book idea---although i had several ideas that i thought would make great books. i really just was curious on how the process went. anywho....she said, "hey can we chat tomorrow? did you bring any artwork?" my response...."yes and yes!"
so it goes. we set up an appointment to chat. she looked at my album, asked me what my ideas were. the whole conversation lasted all of 10 minutes with an exchange of contact information and a promise from debra to have a contract out to me to write a book on circle journals!!!
i was soooooooooooooo stinkin' excited........literally walking on the clouds. i mean this was amazing! looking back, i think to myself......what the heck was i thinking??? i must have really felt confident in my ability as a designer. honestly. i had NEVER, ever, ever seen a circle journal other than a few posted on 2 peas......and to this day, other than the ones i made for the book, i have only participated in 3 circle journal groups and have only seen one of them come back to me so far. i just knew they were HOT, hot, HOT amoung the scrapbooking community and wanted to jump to see a book done on it.
never in a million years did i think i would write a book!! seriously though. little did i know that lil davis was putting together a book with the circle journals from the hall of famers. i was crushed when it came out.....and really crushed to find out their's was titled "Full Circle". great minds think alike *wink*
working on the book led to many, many business friendships. i worked with several manufacturers to get product to feature in the book and these companies have been fabulous in supporting me as a designer. i am thankful even now for the communication with each of the companies.
this ONE opportunity was just the start of many other opportunities i've been granted. if it wasn't for my book, i would have never gone to altanta this past february, if i have never gone to altanta, i would have never met.......*fill in the blank* if i had never met...........*fill in the blank*, i would have never................you get the idea.
i am proud to say today, that my talent has taken me to places i've never imagined.
just this year.....
i'm able to say, i am an author. how awesome is that???
i joined the SEI design team
i won the junkitz contest
i was a contributing designer for "Junkitz Unbuttoned"
i was able to leave my family for 5 days to attend CHA-winter in atlanta
i had a booksigning in my hometown and taught a circle journal class of 30 women.
i joined the teaching staff at ScrappersDelight for the summer.
i traveled to Boston for a CKU convention and worked the Scrapworks make-n-take booth and assisted in 3 classes.
i had a booksigning event in NH
i taught 2 classes at an annual cropping event for scrappersanonymous in NH.
i traveled to Hagerstown, MD for a booksigning/class event.
i traveled to CHA summer in chicago.
i joined the daisy d's paper company design team
i joined the karen foster designs design team
i was asked to be a guest designer at ..............oops---still a secret! heeehheee
(i'm such a tease!)
allllllllllllllllll of that and i have had over 70+ scrapbooking and papercrafting designs published.
anywho......you get the point. i've made great strides in the industry and i am sooooooooo thankful for it all. but, i am ready to move on from what seem like "baby steps" and grow in leaps and bounds". i am confident as a designer that my day will come----even though others think it has already come, i still feel like God has even bigger plans for me and the talent He's given me. i'm just (not so patiently) waiting for them to be revealed!
until then, i am THANKFUL!