i've been soooo bad at blogging lately.
sorry.
please don't throw any tomatos!
things have been BUSY. ( <------- that's probably the world's biggest understatement of the day!)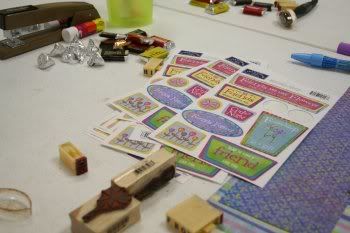 i just returned from a longer than expected trip to Hagerstown Maryland. i left last thursday morning and arrived in barely over 6 hours at the doorstep of my sweet friend cindy smith's house. we didn't waste any time unloading and getting to work. we had lots of prep work to do for the weekend teaching event along with a boatload of stuff to work on for the book. for those of you who don't know, cindy co-authored the book with me. she did a FANTASTIC job. having 2 little ones, i had no desire to author an entire book by myself.
everyone meet cindy, cindy meet everyone....hee.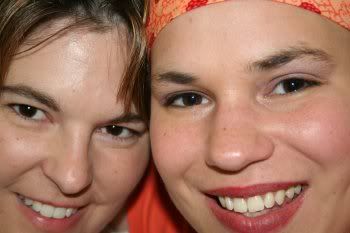 so thursday we spent the day and half the night working on text for the book, sorting through goodies for door prizes for the weekend event and sorting goodies for our contributors, friday we spent even more time working on text, and did some last minute projects for the event (nothing like waiting until the last minute huh?). friday night was the crop from 6-midnight, saturday was all-day classes (we won't talk out my nightmare)---but we snuck in a trip to the offray outlet---got some killer deals on fabric for miss emma's room (YEAH!), and then out to dinner and back to the hotel. we stayed up until 430am working on book stuff---insane, huh?, and then sunday was 4 hours of make n takes.
then, the fun began...NOT!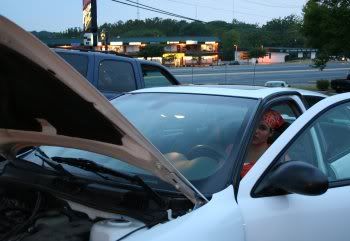 you see, i can't seem to go to hagerstown without a huge ordeal. anyone remember last year? ingrown toenail? hour and a half at a dead stop on the PA turnpike? thought my car was on fire? ants attacking me? sound familiar? well this year was even better. came out from the sunday make n takes at 5pm ready to hit the 6 hour drive home and the car wouldn't start. the area was infested by gnats all while trying to figure what the heck was wrong with the car. got it jumped and going again, drove 10 miles to grab some dinner since we hadn't even eaten lunch, ate and then came out to start my car----started fine. turned it back off (probably my first mistake) to chat and say goodbye, got back in and it wouldn't start again. uggggg! at this point it was 8pm and i decided i had to call and make arrangments for my kids so doug could go to work so i could stay one more night. long story shortened, went back to cindy's, discovered it was the battery and not the alternator, went out to walmart for a new battery, came home for her husband to put it in and crashed hard for a 5am wake-up to hit the road home.
6 hours later.............ahhhhhhhh......home again.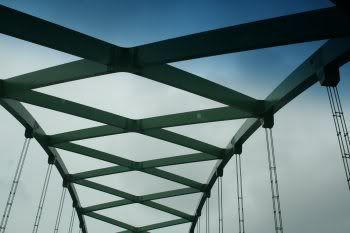 there is nothing better than crossing over the border into your home state after being away from your family for several days.
in other news, i mailed out 3 weeks worth of sweat, blood and tears on Wednesday. there is something a little nerve racking about putting artwork for an entire book into one box and hoping the man in brown gets it to the right destination unscathed.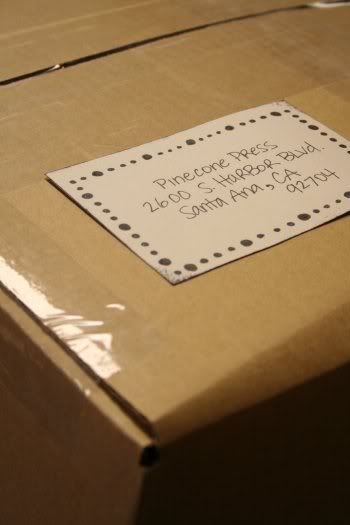 now the wait begins! in just a few short weeks i'll have a second book with my name on the cover! how cool is that???
i honestly don't know what to do with myself now that we are done. it has been 3 long weeks worth of chaos. lots of stress and lots of late nights. i was almost getting used to it and now it is all over. i've already got ideas for the next one. *grin* so does cindy. can you tell i am a go-getter? i really do thank God for blessing me with that personality trait.
let's see what else?
in the past month........
i celebrated my 29th birthday.
doug and i celebrated our 11th wedding anniversary.
we got news that we have a brand-new nephew, Ryan Matthew, born to cindy and daren (doug's sister)!
our refrigerator and washing maching both died on the same day <---hectic day for sure.
the whole family came down with a nasty flu bug.
i signed a contract to write my second book Aug11th!!!!
i met my deadline for finished artwork and text for the entire book in 3 weeks!!!! ( <----i think that is a RECORD!)
and, i took lots of really, really, really cute pictures of the girls.
this is by far my favorite! emma saying "cheeeeeeeeeeese."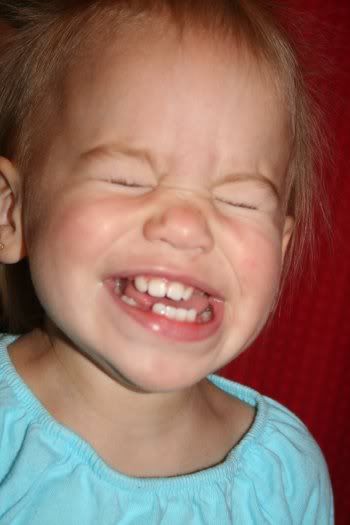 have a GREAT holiday folks!