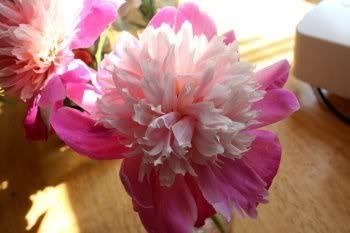 my house smells heavenly!
these are the flowers ashlyn brought home from grandma's sideyard.
a handful of peony flowers.
i honestly think this is the most fragrant flower i have ever known.
i definitely need to remember to dig up a start this fall for my garden.
not only to enjoy the beautiful blossoms in my own yard, but to have a piece of grandma right here everyday. after moving so many times i am thrilled to be settled somewhere for a while. it's really hard to take plants with you when you're constantly moving in the dead of winter. thank goodness we aren't doing that anymore.
anywho. the first spring we were here, we took starts from my dad's place (again----for like the 3 or 4th time) to start our landscaping. last spring we added some flowers from my mom's garden, some from my aunt's garden and then some from doug's mom's garden. i have yet to get something from grandma's garden.
but this fall i will.
i won't forget.
i pray ashlyn gets over her fear of bugs by the time she is ready to get a place of her own. then i will pass along starts from all these plants to her.
it's more than just a garden to me.
it's a family history.
kinda like passing down recipes, i guess.
tonight i'm off on a date with my hubby!
sooooooooo incredibly excited!
months ago he surprised me with tickets to a show.
i'll tell you all about it tomorrow.