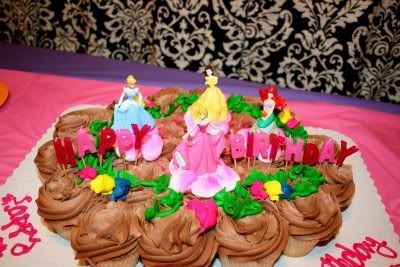 someone tell me....how did the past 6 years fly by SO darn fast?
so, here's my beautiful princess, freshly 6.
guess what she got for her birthday?
MORE makeup!
think it's time those makeup gifts come with lessons, no?
friday night "aunt" suzi came over with bundles and bundles of surprises. she sent doug on a mission to the grocery with ashlyn do divert the little princess so she could make the magic happen. she came equipt with a princess cupcake cake, bundles of balloons, loads of presents---she totally does it all up---and lots of energy! she got it all set up and organized on the table, then made the call back to abort the mission and return home.
all lights out. minutes and minutes of suzi coaching miss em on staying quiet and then yelling "SURPRISE" once ash came through the door. it was sooooooo cute. emma took her shushing job seriously. it was just us family. keeps the meltdowns at bay that way.
of course, ashlyn was totally thrilled with it all.
Princesses AND chocolate cake with chocolate icing----what was there to complain about?
we spent the day of her birthday at kidzapalooza. what a hot mess. won't touch that event with a 10foot pole again.
then yesterday celebrated yet again with grams and little papa.
let's see what else........
oh, 6 also comes with her first wiggly tooth!
still struggling with sensory issues
wearing size 7 clothes for the length, but they are too big on the waist
size 13 shoe
totally in love with her daddy. overheard today...."ummmm, one question. daddy. you look HOT today." *gigglegigglegiggle*
gifts were: books, pink jean, pink shirt, pink shoes, jeans, pink butterfly shirt, jewelry--pink heart earrings and necklace, makeup, pink princess pajamas, more makeup, more makeup.
still a lover of PINK!
we're extending the celebrating into next month with a PINK party!!!!