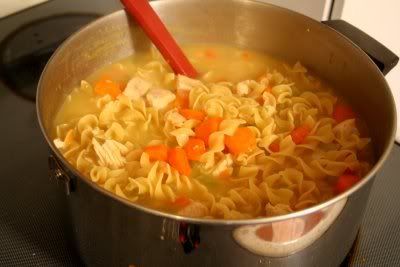 i was looking through the recipe archives that i've posted and was shocked that i've never shared this one before. it's the ultimate comfort food and a definite staple in our household. emma asks every morning "mommy, you make chicken soup today? feel me better?" how can you say no to that adorableness?
It's so easy and feeds a crowd (or reheats well the next day!)
Homemade Chicken and Noodle SoupPrep Time: 10 minutes, Cook Time: 30 minutes.
3-4 large chicken breasts, boneless, skinless.
3 stalks of celery, cut into 1" pieces
6-8 carrots, peeled and cut into 1" pieces
1 large onion chopped
8 chicken bouillon cubes
1 bag of egg nooodles
1 can condensed cream of chicken soup
2 large soup pots
Fill one large pot 1/2 full of hot water, add chicken breasts and bring to a boil. Boil until chicken is no longer pink. Takes about 20 minutes if frozen (12 if not frozen). Fill one large pot 3/4 full of hot water and bring to a boil over medium-high heat. Once boiling, add bouillon cubes, celery, carrots and onion. Reduce heat slightly to prevent boiling over. Continue boiling for 20 minutes, or until carrots are tender. Then, add in one bag of egg noodles (less if you like your soup soupy and not hearty). Cook according to the time given on the package directions.....I usually cook for 10 minutes. While the noodles are cooking, remove chicken from your other pot and cut into small cubed pieces. Add them to the soup as you go. Also stir in 1 can of condensed cream of chicken soup toward the end of the noodle boiling time. This acts as a thickener, so you can add up to 2 cans of soup if you want a creamier soup base.
I used to make this a lot when the girls were babies and then puree it or grind it up depending on their age. They loved it then and still love it now. Let me know if you try it or leave a comment if you have questions.