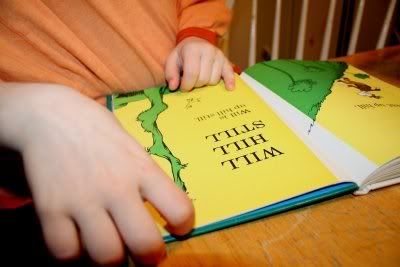 feeling like i have a little too many cobwebs in the noggin' this week, haven't really been able to form too many coherent thoughts or felt even felt the desire to blog. i was doing so well sharing almost daily, then my routine got interrupted with some unexpected changes in routine this week.
anywho.
what's on my mind.....
http://hulaseventy.blogspot.com/2007/10/friday-afternoon.html this idea is SO going to happen with our family. i LOVE it! i'm thinking german village, clintonville or grandview area would be fun to visit with these little notes of happiness. totally clever and such a fun family thing to do. or even a date night (hint, hint.)
we're on the search for a new babysitter/daycare. part-time. our current sitter has some major changes coming up including a move and having another baby. happy for her, but bummer for us.
only worked monday of this week. and won't be back until tuesday.....babysitter called off sick. i'm already stressing over how to pay the bills. for me, no work=no pay. oh and.......also, if i can even keep the job. it's tax season and i work for an accounting firm. now is not the time to be missing work. but they understand it's out of my control. i think.
been having lots of headaches. see above.
they number of days til grandma comes home is...............???? SOON! can't wait.
ashlyn has all of the sudden taken an interest in learning to read. can you guess the book she started with?
Junie B. Jones is classic Ashlyn. I've been reading a few chapters a day to her from one book in the series.
we are a little bit closer to being debt-free----YES!!!!! after 13 years of marriage we are finally without a car payment. paid the final payment on the truck yesterday....it feels so good. and yes i do know that i'm probably jinxing myself and we'll end up with a major repair soon. but for now, our rusting piles of metal are 100% ours!
my laundry is ALL clean and ALL folded and tucked nicely into baskets. now to just muster the energy to get it ALL put away. this alone makes me incredibly happy going into the weekend with NO LAUNDRY.
for those of you wondering, yes i did manage to have some creative "me" time last weekend. i'll share in the next post. today, i'm trying to decide on what this weekends creative time will involve. i'm pondering: teaching myself to crochet (again), going on a photography adventure somewhere downtown, or sewing curtains for emma's room.
getting flutterflies in my belly thinking about cindy having her 3rd baby in 10 DAYS! and sending up prayers already---she had major complications post delivery with her 2nd one.
another heavy on my heart friend---stacey k. who is grieving the loss of her father a little bit more this month, being the month they would have celebrated his birthday. HUGE HUGS to her.
be back later today with pictures from the last week!