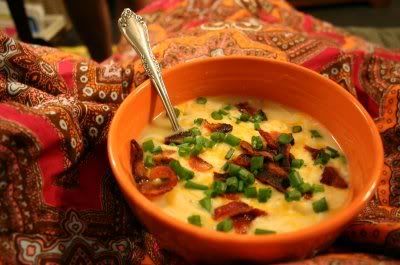 mmmmmmm, this was the scene last night at my house. snuggled in a blanket and served dinner by my husband. ahhhh, life is good.
this is by far my favorite winter food ever. definitely a staple on our menu. but what makes it even better.......you make it in the crock pot!
wanna taste? it's super simple, you should give it a try. and for all my new readers, here's a link to all the other recipes you can't live without--trust me.
Tania's RECIPE Box
.
Loaded Potato Soup
Serves 12.
8 cups peeled, diced potatos
1/3 c. chopped onion (i just use a whole large onion)
3 cans (14 oz) chicken broth (or 6 cups water & 6 chicken bouillon cubes)
1 can condensed cream of chicken soup
1/4 tsp. pepper
8 oz. cream cheese
1/2 lb. bacon, cooked & crumbled
chopped green onions
shredded cheddar
In a slow cooker/crock pot, combine potatos, onion, chicken broth, soup and pepper. Cover & cook on low for 8 hours (or high for 4). Add cubed cream cheese, stir until blended. Serve garnished with bacon, cheese and green onion. Easy peasy. ENJOY!
and the winner of yesterday's giveaway..........TONA. email me please at taniamwillis at (yahoo.com). i haven't heard from Marla yet. and up for grabs today:
BRAND NEW RELEASED PRODUCT from
Little Yellow Bicycle
. Lucky you, i got duplicates!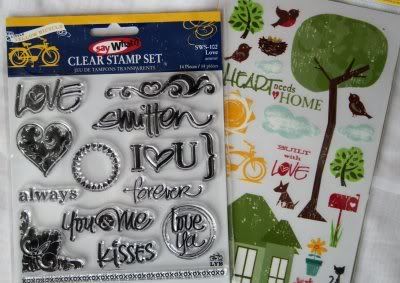 here's a full view of the rub-ons--it's a 4" x 12" sheet.