my appologies to all my readers who are trying their darndest to lose pounds. click away now, lest you be tempted, don't say i didn't warn you, LOL. but i honestly won't be able to sleep tonight, knowing that i haven't shared the deliciousness that is these cookies.
seriously, after eating one (or two or three.....or four) of these, there'll be a party in your tummy! Mmmmmmmm.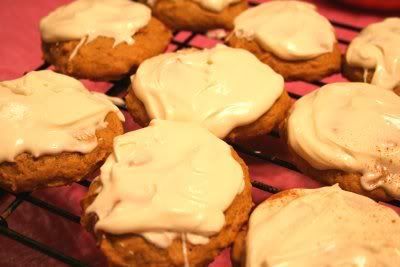 (sorry for the poor quality photos...i'm lacking in the photoskills department lately.)
PUMPKIN SPICE COOKIES.
Preheat oven to 350 degrees.
Ingredients for cookies:
2 1/2 cups all purpose flour
1 tsp. baking powder
1 tsp. baking soda
2 tsp. cinnamon
1/2 tsp. nutmeg
1/2 tsp. cloves
1/2 tsp. salt
1/2 cup butter, softened
1 1/2 cups granulated sugar
1 cup canned pumpkin puree
1 egg
1 tsp. vanilla extract
Cream Cheese Frosting:
1, 8oz. bar of cream cheese
1/4 cup butter, softened
2 cups powdered sugar
1 tsp vanilla
1 tablespoon milk (optional)
Preheat oven to 350 degrees. Combine flour, baking powder, baking soda, cinnamon, nutmeg, cloves and salt; set aside. In medium bowl, cream together butter, sugar. Add pumpkin, egg, and vanilla; beat until creamy. Mix in dry ingredients. Drop by tablespoonfuls onto cookie sheet, flatten slightly. Bake 15-20 minutes. Remove to cooling rack. For icing, beat together cream cheese and butter. Add powdered sugar and vanilla. Add milk to thin icing if necessary. Spread icing on cookies after they are cooled. Store in refrigerator because of cream cheese icing. EnJOY!