with giveaways and gifts aside for a moment, i want to send my love to each and every one of your families. it's time to forget about the list, put the un-done tasks aside, and snuggle in for a few days full of family, doses of antibiotics, laughter, love and rememberance as we celebrate Christmas.
"And she brought forth her firstborn son; and wrapped him in swaddling clothes, because there was no room for them in the inn. Now there were in the same country shepherds living out in the fields, keeping watch over their flock by night. And behold an angel of the Lord stood before them and the Glory of the Lord shone around them and they were greatly afraid. Then the angel said to them, do not be afraid for behold, I bring you good tidings of great joy which shall be to all people. For there is born to you this day in the city of David a Savior who is Christ the Lord. And this will be a sign to you: you will find a baby wrapped in swaddling clothes, lying in a manger. And suddenly there was with the angel a multitude of the heavenly host, praising God and saying, "Glory to God in the highest and on Earth peace, goodwill toward men." Luke 2: 7-14.
doug will stay home with the feverish little one, so i'll get to go visit with Grandma and the family as we celebrate together tonight. so all is good. thank you for all your sweet comments and concern. she'll be okay, we've been down this road of strep with her before. the first few days are rough, but it will get better.
wishing you Peace.
*************************************
winner of the prize yesterday: NanaBeth!
please email me at taniamwillis at (yahoo.com)
winner of the class: AuBien!!!!
email me too please.
tomorrow is Christmas!
i'm signing off today for a few days, but
i still have TWO giveaways
...the last giveaways of this year *winners will be announced sometime after Christmas....let's say, by Monday*:
first one
is a hodge-podge assortment of goodies, including; a swatchbook style mini album by 7gypsies, a large rub-on word "family", adhesive fabric tags by Making Memories, some felt ribbon, assorted chipboard accents, felt flowers, and a slew of ribbon.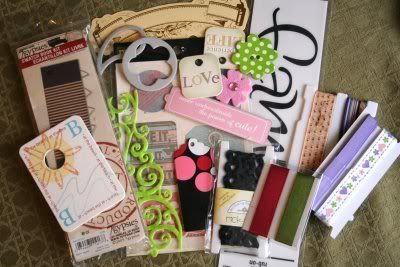 second one
: an 8x8 patterned paper pad (24 sheets) with coordinating diecuts, a CD minibook, some chipboard shapes, and a roll of ribbon.