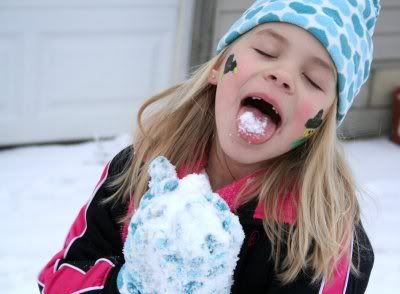 since i haven't taken a single picture in this new year.....other than picture of my design work since tradeshow time is upon us again.....i thought i'd share one from december that was tucked away in the busyness of the month.
just looking at it makes me wish we had some snow. yesterday we had freezing rain. and ice. ick! we used to live up in the snow belt and would get a good 8 inches with every snowfall. now, two hours south, we're lucky to get enough to build a decent snowman.
anywho. please bare with this little lull in posting. i so enjoyed posting every single day in december, that i miss it now. but, i'll be honest, i'm feeling quite spent lately. all of my creative energy is going into design projects that i can't reveal yet. mainly tradeshow work, but some guest designing work. between that and my accounting job, my brain feels fried. one more week of designing from sun up to sun down and then i'll be back to life as normal.
just in time for class to start!!!! i'm getting SUPER excited for it to start!
speaking of that class---a certain someone named Ali Edwards is giving away a free pass to my class!
GO HERE
for your chance to win. go now. it's only open until this evening.
don't forget the chance on Courtney's blog. see the post below for the link. her's is open until this weekend.
happy whatever day it is! they're all running together. hahahaa.