did ya miss me? probably not, lol.
afterall, i'm just posting my random thoughts that mean nothing to anybody else.....
not so entertaining.....
not so interesting.....
but important to ME!
i've never been the entertainer type so hopefully you aren't looking to my blog for entertainment *wink*. although, i have tried to persuade doug to post once a week so ya'll have a bit of his perspective.
mr. entertainer extraordinaire himself.
i'm sure he'll post nothing but random sillyness. love that man. always being silly, cutting up laughing, seeing the glass not half-full, but overflowing. without him, i'd definitely have been committed to a mental institution by now---not really, but i'm sure some of you know what i mean.
life has been full of enjoyable choas lately
.
we've been snuggling sick kiddos. had company over for cookouts. kids over to play. snugling sick kiddos. girls over for scrapbooking. we've been adding splashes of color to our home. getting ready to make-over the playroom for some much needed funness. holiday festivities. snuggling sick kiddos (did i already say that???). all consuming energy, but throughly enjoyable nonetheless. it's good to break the mundane routine of everyday sameness. just being thankful i have a place to call home, a few awesome friends, food on my table, and a warm bed to snuggle into each night.
leaving you with a few pictures of the
FUN
that's been happening on our backyard playground that my dad designed and constructed!
you ROCK dad.....thank YOU for all your hard work building this
(with some help from doug). the girls LOVE to play on their swingset. ashlyn is bound and determined to conquer the monkey bars before the end of the summer. becoming more and more brave each day.
our junglegym of a backyard...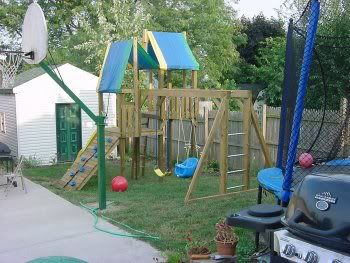 ashlyn attempting the bars once again....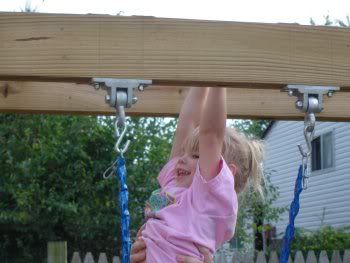 ashlyn, madison and austin on the trampoline...