have you heard of it?? it is soooo much fun.
get this.....when you call they answer the phone saying....
"thank you for calling libby lu's where we're havin' a rockin' good time!"
if you have a little girl, and you haven't been, you are missin' out on one fantastic concept of totally girlyness! you see there is this little store at easton, totally decked out in everything girly. fluffy pillows, hot pink everything, sparkles and glitter abound, totally divafied!
so last weekend my friend becca came to visit for the weekend with miss riah and her adorable little man isaac. the weekend was packed full of giggles and adventure!
we took the girls to libby lu's for a makeover session. let me tell you....total funness. first, the girls got a "rockin' good time" backpack to fill with their choice of goodies (makeup, hairbows, feather pens, keychains.....), then they got to change in a totally cool dressing room....then off for their makeover. nailpolish with glitter on top, then sparkling stars adorned their eyes, eyeshadow and lip sparkles of their choice. they each got to choose one of 6 "styles" to be transformed into. rockstar. diva. princess. tween idol.....the girls picked the princess. so their hair went into a cute little up-do, topped off with glitter spray and then they closed their eyes to wish upon special fairy dust (they were sprinkled with even more glitter) and then adorned with a princesses crown. once the makeover was done, they were guided to the middle of the store to dance in front of everyone to the song of their choice.
so FUN!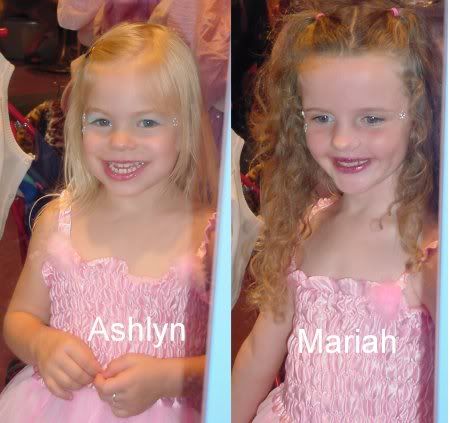 afterward they pranced around and played inside the mcdonald's there at easton and then off to graeters for icecream....yummmmmmmy!
then the real fun began......
home to put the babies to bed and have a totally rockin' time just us four girls! 10:30pm we took the girls outside to jump on the trampoline. yeppers, all four of us on the trampoline at once!
hysterical!
i can't remember the last time i laughed as hard as we did. good times.