OCTOBER 13, 2005.....
date night. what's that anyway?? seriously though.....it had been like FOREVER since we have been out---just the two of us. hmmmm.....i'm thinkin' the first time since miss em was born!
long, long overdue.
so doug and oliver had been planning a special night out for me and heather (oliver's wife). secretly planning. for months. constantly talking in "code" around us to throw us off so we had no clue where we were headed for the evening.
doug had me thinking......
dinner and a movie
laser tag
carriage ride and dinner on the river
shopping at easton
pretty much anything and everything but where we ended up. silly guy.
so....anywho....we went to dinner at the ever popular DON PABLOS. one word. yum-ummm-mmmy! hey, and i even branched out and ordered something other than fajitas. got me a chicken chimichanga. delicious.
entertainment for the night. well.....the picture says it all.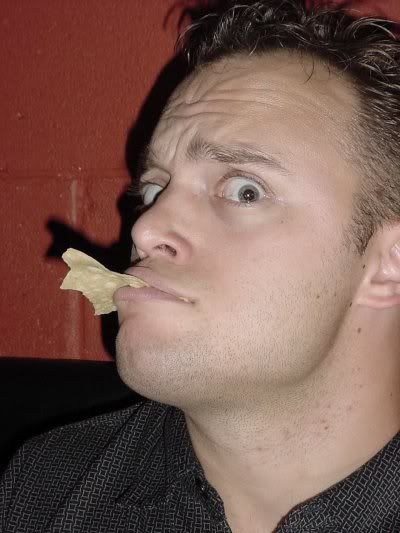 oliver. can't take him anywhere. such a jokester.
anywho.....after eating dinner we were given a present. the gift inside.......
a comic. written by doug. illustrated by oliver. matted and framed. and the last 2 frames covered up with a "?" mark.
after a short bought of spewing coke all over the place from the hysterics of the comic, we still had no clue where we were headed next.
so off we go to the land of the unknown. driving up to easton. pull in the parking garage and then right back out. okay....not going to easton. whew. i really didn't want to see a movie. so, then we started heading back toward gahanna. oliver drops us off at this building to park the car. okay, i'm a moron. i still don't know where we are. heather says.....ah...penzone.
what????
CHARLES PENZONE????
yeppers.
that's right. the guys took us to dinner and then dropped us off at charles penzone for 2 hours of pampering.
one word--awesome.
an upper body massage. nails manicured. pedicure. just heavenly.
SO PROPS TO OUR WONDERFUL, LOVING HUSBANDS WHO WANTED TO DO SOMETHING SPECIAL FOR US TO SHOW US APPRECIATION.
THANK YOU!!!! love you both!
here's the comic....