as promised.........this is where the MAGIC happens!
okay.....the picture tour is pretty much a 360 view around my room with a few things missing.
my room is pretty much a "little hole in the wall" space---but perfect for me. the girls' playroom is just outside my studio, so that makes it even more perfect.
this picture below is my main work area. my table was constructed by my dad using two 80" doors fastened together in an "L" shape with a box/frame support and 4x4s for the legs. the hutch was a discarded find from a neighbor moving out. i can't believe how perfect it works. looooooooove, that i finally got the courage to go bold and go RED! (color place: late tomato *walmart*--for those of you wondering) just recently i personalized the space a bit more and got rid of all my see-through storage to make room for some ultra-fabulous faux red leather storage boxes that i snagged at the local deal's for a $1.00 each----yeppers....i'm the queen of bargain shopping!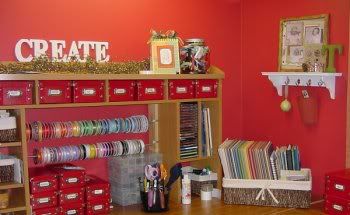 this picture is the other side of the table.....and the wall with the window on it. the window looks out into my front flower beds. since we have a tri-level, the window is at ground level.
continuing on down the end of the table--my computer with pictures of the loveys in the 'window' frame staring back at me and my super, cool makeshift memo board constructed of an old window frame with the glass busted out and chicken wire stapled to the backside---another fun day with dad in the shop.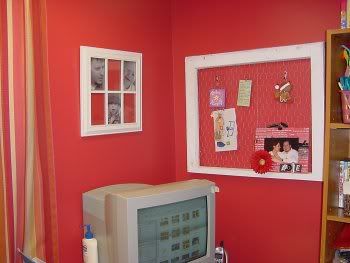 the door into my room is opposite the wall that my computer sits on. so if you look straight in through the door, the first thing you see is the computer.
continuing around.....i didn't snap a shot of the bookshelf, but when sitting at the computer, i have a 5 shelf floor to ceiling bookshelf to my immediate right with various albums, ideabooks, etc stored on it. along with all of ashlyn's crafting stuff now that emma is able to reach the little bookself in the toyroom. *sigh* it's a major eyesore right now, thus no picture.
but, immediately beside the bookshelf is my new red dresser!! love that thing. it stores various art and craft supplies, unused albums, misc stuff and the bottom drawer is nothing but pictures. i have all the books/magazines i've ever been published standing upright on top. this dresser sits right inside the door of my studio.
just inside the door to the left, this is a picture of that wall. the entire wall is nothing but pegboard storage. still trying to figure out this system of storage and what is most efficient. i think i need to invest in some brackets and create a shelf system along the top part that is now going unused.
the pegboard doesn't go floor-to ceiling......there is probably 3 1/2 feet of open wall space below. anywho....no picture for this, but below the pegboard sits a 24 slot mail-type sorter from office max. each slot can hold a ream of paper. this is what i use for 8.5 x 11 cardstock storage and cardstock paper scraps sorted by color. on top of it sits, 3 sterilite drawer systems holding all my design team product. easy access and reminds me to grab for it first. and lots of cute glass jar storage with buttons, ribbons, etc., etc. i'll try to remember to snap a picture.
and this last picture brings you back around to the main desk area.