yep, that's right. me. preschool art teacher for the day. let me tell you----fun stuff. i got to teach a cute little christmas craft to the kiddos in ashlyn's class today..........all 15 of them. yes. me teaching 15, 3-year olds with a whole bunch of energy how to alter a clear christmas ornament with scrapbook paper and some watered down elmer's. sticky, messy, but oh so fun!
the kids were pros. we left them to dry overnight. can't wait for them to take them home to their parents and put them on the their trees. i know how excited ashlyn gets when she can display her creations throughout the house-----so i can imagine there will be a whole lot of pride in those kiddos eyes tomorrow when they get to take them home.
tonight was the parent meeting at school and i ended up with a "position" on the policy committee. yep.....i'm crazy. i am the official Policy Committee Representative Alternate. any time the Policy Committee Representative is unable to make the monthly meetings, i will attend in his place and have a voice----one where my vote counts. how cool is that. the coolest thing is that this committee consists of 49% government officials and 51% parents----meaning we as parents have the deciding vote on all that happens for our children! this is the committee that meets with government officials to make a voice for our children and what their education center does. a place to voice concerns. a place that decisions to hire or dismiss an educator occur. a place where we can be heard and make a difference in our children's lives. this preschool program is some serious business. these policy committee members travel to washington dc to face the senators and other representatives to make pleas on behalf of our children. WOW. i just keep reminding myself what a blessing we've been given to be a part of it. a school that is safe and where the teachers love my child and care about her well-being. a place that she goes 4 days a week for 3 hours. they feed her a nutritious lunch and snack. teach her manners and social skills. i was in awe at their ability to educate only after observing for 3 hours today.
and on to the biggest surprise of the day.....
i came home to the most generous package ever. i am just FLOORED by the generosity of this sweet, sweet gal named cindy smith. i've known of her from the scrapbooking industry, but over the summer while i was signing books in hagerstown, md, i finally got to meet her! a TOTAL sweetie! anywho....i came home today to the most adorable surprise package of a longaberger horizon of hope basket filled with lots of scrapping goodies from her..........it literally brought me to tears! i don't know what i did to deserve her unselfish generosity-----honestly, she is the most giving person i know---directly from the bottom of her heart. she even added some treats for my girls. cindy.......THANK YOU, THANK YOU soooooooooo much! *smooches sweetie*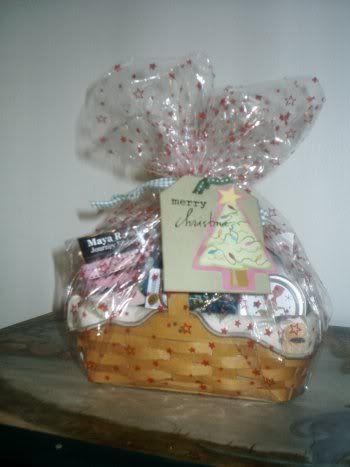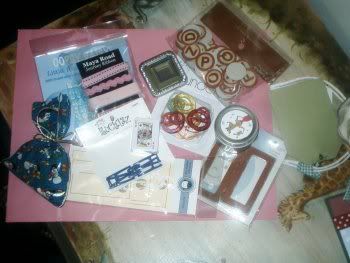 off to clean up the studio so i am ready to design all day tomorrow. lots of projects in the works and working on valentines cards for pinecone. looooooooove making cards. got 8 done in just over an hour yesterday. yeah me!!! oh.............finally got my studio to the point i'm ready to share some pictures...........stay tuned.