okay....first of all.....this girl cracks me up.
just look at her.
aren't you laughing out loud?
she is just too stinkin' cute.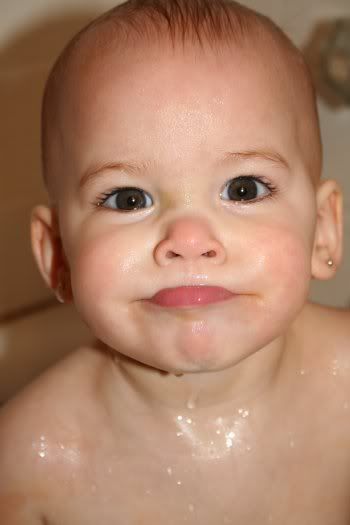 okay another picture....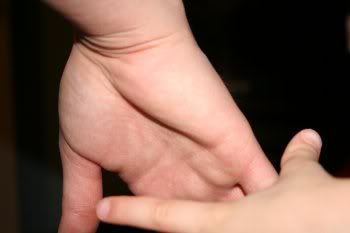 this is one of the many things that are making me crying on the inside.....
pretty much everything ashlyn says these days causes that feeling.
she is getting too big for her britches and it's killing me.
yesterday, we were getting out of the car to go into barnes and noble to buy a birthday present for her little boyfriend austin. so i get emma out of the car and come around the back of the car and hear all this clunking......like clog shoes. then realize, ashlyn snuck out of the house in her barbie dress-up shoes without me noticing. mind you, these shoes have like 2" chunky heels. no big deal.....it'll give some moms a nice giggle. anywho......i reach out my hand and ask her to take my hand since she is a little unsteady on her feet in these things and she proceeds to say...
"i don't need to take your hand anymore mommy, cause i'm a big gur now."
*sniff, sniff*......i'm losing her already???? i'm not ready for this.....not by a longshot. dear God, could you please stop time NOW!
then, later that evening after discussing a super exciting teaching event i'll be hosting this summer, i realized just how much of a grip i do still have on the little tyke. she overheard the conversation while watching dora and quickly tuned in to listen to more details. then she gently came over to me, put her hand on my face and said....
"mommy you can't leave me because i've never met anymore tongya's, so there are no tongya's or mommies to take care of me while you're gone."
okay....so maybe she does still need me, but God, you can still stop time for a while! that's not such a big request is it? please?
okay, so what else did we do this week.
wed. i interviewed with cord camera for a teaching position. not sure yet if it will be traveling/teaching throughout ohio or just teaching at the new clintonville location set to open april 1st. get this----the new store----13,000 square feet!!!! holy guacamole, that's a lot of scrapbook supplies needed to fill that much space. not too sure if i'll accept the position because i'm honestly not sure if it will be worth the time and energy it requires to design/teach on an ongoing basis. anywho...i will only teach on doug's days off so the girls won't have to shuffle through babysitters. that evening, we visited with some old friends that we haven't seen in almost 6 years. soooo fun.
thurs ashlyn's preschool teachers stopped over for in-home visits. ashlyn was excited to show off her bedroom and playroom. in the evening i made homemade cinnabons. oh my goodness these things melt.in.your.mouth. they are so delicious. stay tuned.....i'll post the recipe soon.
yesterday we ran errands and ashlyn ended up puking all night. blech.
today was a birthday party and some scrappy time for me!
my new favorite layout.....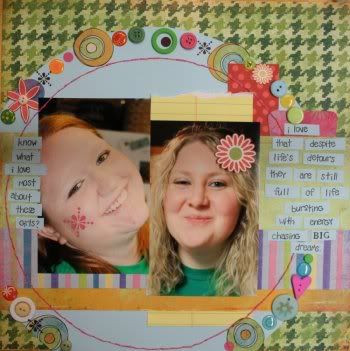 and yeah me!!!!!!!! i moved onto the 4th round of Scrapbook Survivor with this layout.
it opens up to reveal a TON of journaling......really deserves a post of it's own. someday.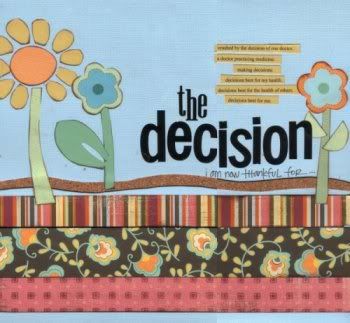 okay....it's 145am. gotta.go.to.bed.
night.