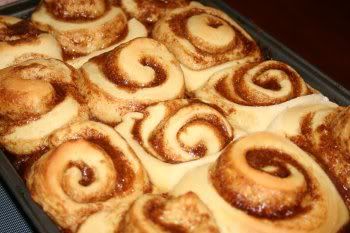 gotta love the breadmaker! if you have one, you are definitely going to have to make time to whip up a batch of these puppies. they simply melt.in.your.mouth.
Recipe courtesy of Nikki MacDonald.
4 tbsp melted butter
4 tbsp water
1/2 of a 3.4oz box instant pudding (vanilla)
1 cup milk (nuked in microwave just long enough to take the chill off)
1 egg beaten
1 tbsp sugar
1/2 tsp salt
4 cups bread flour
2 1/2 tsp yeast
Filling:
1/2 cup softened butter
1 cup brown sugar
2 tsp cinnamon
DIRECTIONS:
place ingredients in bread machine - follow specific directions for your particular machine. set machine on dough cycle. *watch during the first 5 minutes to make sure all of the flour gets kneaded in. sometimes you may have to add a SMALL amount of more liquid since there are 4 cups of flour. * after dough cycle is complete, remove dough from machine and place on a lightly floured surface. let dough rest 15 minutes.
roll dough out to 10x17 (approx.) rectangle.
DIRECTIONS FOR FILLING:
mix brown sugar, cinnamon and butter. spread over dough. roll tightly from long end pinching edges closed when completely rolled. slice rolled dough into 1/2" slices *dental floss works great for this step* place into greased 13x9 pan.
cover and let rise until doubled in size.
bake at 350 for 15-20 minutes or until golden brown. *DO NOT OVERBAKE*
FROSTING:
4 oz cream cheese (softened)
1/4 cup butter (softened)
1 1/2 cups powered sugar
1/2 tsp vanilla
1 1/2 tsp milk
spread on very warm rolls. they are best eaten fresh, but they refresh if warmed for 10-15 second in microwave.
ENJOY!