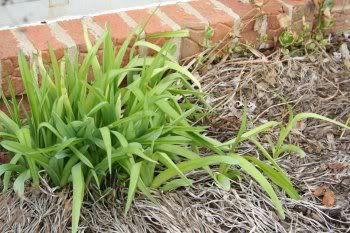 awwwww....isn't it lovely.
love spring.
soooooooo excited to be close to the time we all get to dig in the dirt.
plant new seeds.
watch things grow.
can't wait for memorial day. grammy "at the beach" is bringing me some starts from her gorgeous flower garden. can't wait.
the weather is warming around these parts and the kiddos are itching to play outside. against better judgement, we went to the park near doug's uncles house and let the girls play for a bit just the other day. ashlyn had a ball, but miss emma not so much. we cut our visit to the park a bit early to go back and jump on the trampoline. oh.my. i found the newest form of entertainment for emma-----as i was watching them on the trampoline, i laughed so hard my stomach hurt. i was a bit nervous with them jumping there because there is no netting around it. every time emma would get up on her feet---extremely unsteady---ashlyn would bounce and knock her back down and then emma would giggle soooo loud. it was hysterical. lovin' that we wrote the stay of the trampoline into our contract at the house....and really loving that ours has netting so i don't have to be on the verge of a heart attack every time they jump.
here's a cute picture i got of ashlyn. she's at the photo taking stage where she wants to pose every time she sees the camera. not many candids of her these days. always a tongue out, a cheesy grin or her hands on her face. *sigh* all part of the memories though. she's still a princess.
not much else going on around here lately. just trying to keep my head above water with all the housework. can't wait until the weather breaks and they can play outside. then maybe the house would stay clean. i girl can dream right?