i LOVE spring.
fall used to be my favorite season, but i'm beginning to grow more fond of spring. love the smell of a pending rainfall and seeing all of the trees and flowers wake from their winter slumber and bringing forth beautiful buds and fresh fragrance. love that i'll soon be sporting dirty fingernails from digging in the flower garden along with my 2 sidekicks.
it's a new season. a new beginning. a fresh start. a different perspective. don't we all need that on occasion? i know i do!
it's been a busy week here. running errands, activities, park visits, assignments and deadlines--the norm.
thursday night on the way to dad's to have pizza and color easter eggs, we glanced over toward grandma's house from the freeway and noticed a van in the driveway. so we exited the next exit to loop back around to check in. she's been in florida since the day after christmas----we had no clue when she'd be home. anywho....she was just getting back---a very pleasant surprise. so we kidnapped her to come down and enjoy the fun. ashlyn was excited that her great grandma was back! of course, grandma was excited to see her grandbabies again. here's a picture of her laughing at ashlyn's silly antics.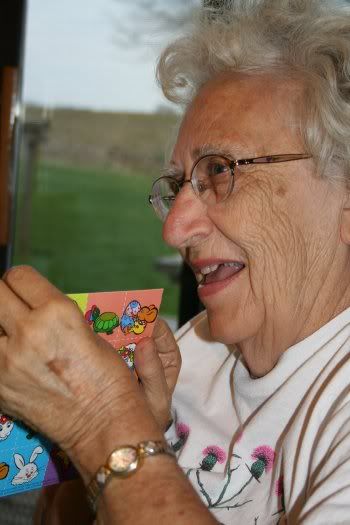 the eggs we colored turned out awesome! if you want bright eggs, PAAS using vinegar and water is the way to go. check these beauties out!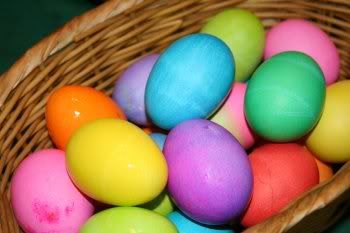 and we discovered the best way to keep emma entertained for an hour. give her a plastic egg and some marbles. =) the things that keep her attention amaze me. speaking of which. i really wish i knew how to add a video clip. you should see emma with the monkey grammy and papa bought her. it is one that has velcro on the hands. anywho....she velcro's it together, then hangs it around her neck and then puts her hands up to her armpits and makes sounds like a monkey. then she runs through the livingroom giggling her head off. it is hysterical! stay tuned----i did video tape it. i'll try to figure out how to upload it.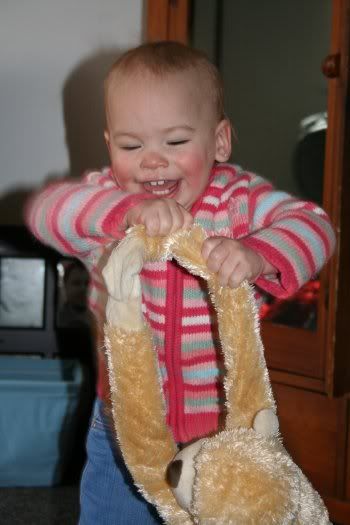 in other news, yesterday we added a few things around the house---inside and out! our front yard is now adorned with a japanese blossoming cherry tree---aka Snowgoose. it was worth all the trouble to see the excitement in ashlyn's eyes after it was planted. she is thrilled. we have plans to add a small pink dogwood closer to the house, but we need to expand the flower garden outward into the yard before we do that. hopefully in a few weeks!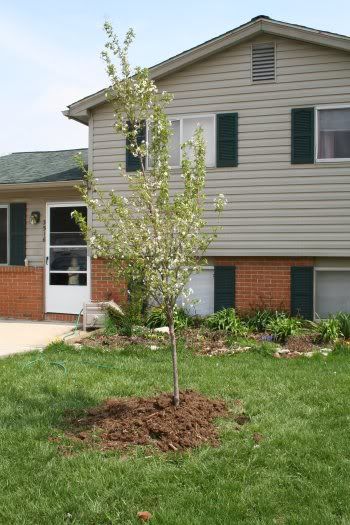 inside, we've hung curtains in the livingroom, added some accessories and still waiting on some free-time to paint the walls a warm cappaccino color. i am thrilled that we actually have a room that is more of a sitting/family area and the toys are finally confined to the playroom.
got my taxes done. finally. sheesh.
last night i was up until 3am completing projects for display on michaels.com! fun stuff. i love those type of assignments.
today has been busy running errands, paying bills, mailing packages, visit to grammy's for an easter egg hunt---which i forgot my camera---lunch at cici's, and prepping for our family game night with doug's coworkers tonight and a million other odds and ends. busy day.
can't wait to just chill tomorrow. lay low like broccoli. *little thing ash and suzi have*
just chill. =)
oh wait.....almost forgot! don't know how i almost forgot because ashlyn is beyond excited about the blessing that her little friend madison has been. this week she gave ashlyn a ton of stuff that she's outgrown.....clothes, flashcards, a bible, a devotional for preschoolers, etc. ashlyn is so very thankful for ALL of it. even to the point that she brought all the books to the livingroom, dumped them on the floor and said "hey mom, can you take a picture and put it on your blog." heeeheee....that's my girl! thanks maddie!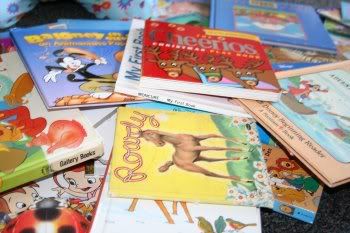 have a BLESSED Easter!
t