the past 4 days have been the busiest we've been since we've moved and it is catching up with me. i've taken at least 500 pictures and the thought of sitting down and picking favorites to resize and post is getting the best of me.
sooooooooo, these are just a few that popped out at me right away!
easter was thrilling to see the girls enjoy all the activities. they were spoiled rotten by everyone. i think we have enough candy to last well until summer.
and can you get a hint at the personality of this little miss??? it isn't often that i grab a picture of her actually looking at the camera----she's a little busy body and my darn finger can't hit the shutter fast enough most times. i also think she knows exactly what i'm trying to do and doesn't want any part of it. even here it looks as if she's 100% ornery!
monday was a fun, relaxing day playing at grammy and papa's. ashlyn spent most of the time outside with her "other" boyfriend, austin taking turns pulling baby emma on the back of this antique tricycle.
and then today, we had tons of fun with 2 extra kiddos at our house for the day! can you imagine! the three muskateers!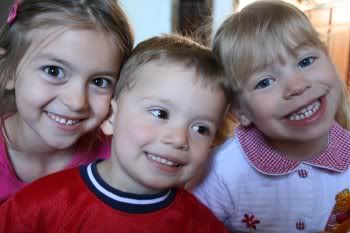 okay, i have a million more pictures and stories i want to share, but today has been exhausting---looooooong story, and i have a ton of deadlines i need to meet. if i don't appear for a few days, don't worry about me. just trying to get some work done! hope these pictures hold you over until then.
t