yeah. so i'm a slacker on this blog thing again. so what.
instead, i've been soaking up every last second of the innocence of my children and quite oblivious to the cyberworld as it is.
forgive me? thought so. thanks!
anywho...
i've been snapping pictures like a fool again. what's new right? if you didn't already know it, i loooooooooove taking pictures.
love that even though my days are running into each other and i can't remember a thing if my life depended on it, i can still enjoy the magical moments weeks later as i look back through pictures that i've taken. pictures that only took a simple click of the shutter. a momentary pause in time. capturing a memory. evoking emotion. pictures that then tell a story.
ahhhhhh.........love this hobby of mine.
back to my week.
let's see. i'm really thankful my camera automatically labels my pictures with a date, or i wouldn't have a clue what to say happened in the past week. i'm really not an airhead, just suffering from short-term memory loss from the steriod injections. it's not fun. i honestly can't remember much of anything.
so........
april 1st, ashlyn and i were playing dress-up and i snapped a million cute pictures of her pretending to be on american idol. it was hard to narrow it down to one favorite.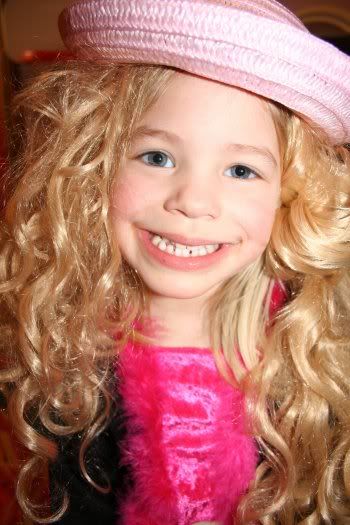 april 3rd, suzi rescued me for a trip out shopping. i don't remember what we were shopping for, but i do remember having my first ever carmel frappaccino at starbucks. oh man....that was yummmmmy! thanks suz.
for those of you who don't know, suzi is my angel! my saving grace. honestly. if it wasn't for suzi, i would have done pulled my hair out by now. she always calls at just the right time, always offering to help entertain the girls so i can get rush assignments done. arranging times with doug to come kidnap me to go shopping or just get out of the house. you name it, she's here. she is the most self-less person i know. love that girl! and i'm thankful that i finally asked doug to take a picture of us! i'm sure it'll be scrapped soon. *wink*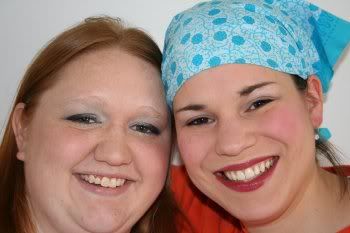 doug had a shift change this week. he went from wed/thur/sun off to thur/fri/sun. and the coolest is his work week runs fri-thurs. so when he switched shifts, he had wed/thur/fri off all in a row. worked saturday and had sunday off.
we've done a ton of spring cleaning and purging this week as well. felt good to haul all the junk out to the curb for bulk pick-up. i HATE clutter. hate it. hate it. hate it. again........my only goal this year. SIMPLIFY.
saturday night we had a visit from grammy and papa and one of their neighbor boys. ashlyn was in heaven to have a friend jumping on the trampoline with her. and emma was soaking up all the attention she was getting. that kid....she's downright hysterical. wish i could import a video feed on here to show you how she pretends to ack like a monkey. it would have you laughing so hard you'd be wetting yourself.
oh.........i also made some amazing peppermint patties. i'll save that recipe for it's very own post.
anywho........otherwise, we've just been enjoying the warm weather and finishing up the dreaded taxes and gearing up to paint the livingroom.
gotta scoot and get some work done.
t