just buried somewhere under this mess.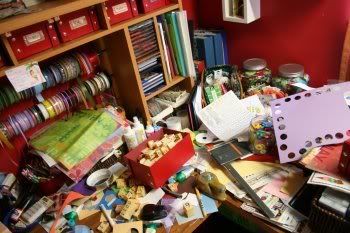 yep, it's that time again.
deadlines galore.
i had 24 whole hours of downtime after the book was finished to do absolutely nothing scrapbook related.
then i landed 55 assignments all due in less than a week.
FUN, FUN, FUN!
get this!!! 8 of those were for a taping of HSN <-------Home Shopping Network!!!
how fun is that? i'll let everyone know when it will air.
the other 40+ are for Memory Trends----the next Trade Show in Las Vegas next month.
i've got 16 of them done......3 more days to do the rest. i'm gonna be one tired chica come Monday.
but, i'm running on pure adrenaline after seeing a new proof of the book. i absolutely cannot wait to get this book in my hands!!!!! sooooooooooo excited! i don't think i was this excited with the first one. i think i was still numb to it all and in disbelief that i really honestly truely wrote and illustrated my own book. but this time, it feels sooooooo real AND soooooo good! i'm an author x 2.
(praise God from whom all blessings flow)
gotta scoot and get back to work!