computer time is few and far between with 2 busy littles, but i'm still taking pictures.
this week has been a crazy, disorganized week and it is getting the best of me.
i crave organization.
it's hard to come by with 3 others in the house who could care less if anything was in it's proper place.
then, last week i had the brilliant idea to strip and prime the cabinets.
something i could control, right?
yeah. so i thought.
what a mess.
the kids got a kick out of it.
their morning entertainment.
anywho.
my lack of sanity might have something to do with the fact that this is what i collected off the kitchen floor only 2 hours after having it be the only room in the house that was clean.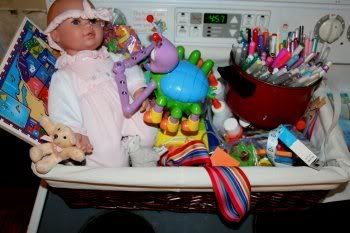 *SIGH*
so. here's the pictures from the week.
jan 12
her safe place.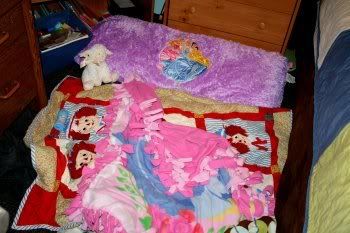 jan 13
she might as well own stock in the popcicle industry. every single day when she gets up the first thing she does is go to the freezer and flash those big brown eyes and says "mommeeeee, pop please." irresistable, i tell ya.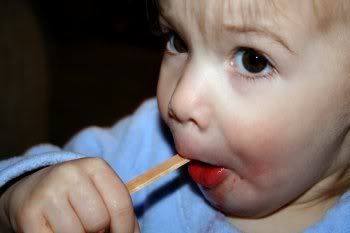 jan 14
first thing doug does when he walks in the door from work is answers the begging and pleading cries of his little girls to wrestle and have a tickle fight. every day. and they laugh and laugh and laugh and laugh. it's a beautiful thing. glad i married a big 'ol kid......comes in handy when you have overactive littles.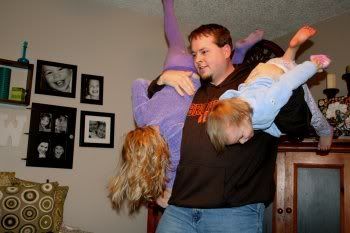 jan 15
spent way too much of our morning at home depot chasing the kids out from under the shelves and out of the model cabinets which turned out to be quite a good hiding spot for them. we wouldn't have been there so long if i could be just a little more decisive. okay, a LOT more decisive. my downfall. must have changed my mind at least 10 times on the kitchen colors, countertops etc. finally made the decision, ordered the countertops, bought the sink and faucet. no to decided between the 30+ shades of white for the cabinets and the 50+ shades of cappaccino for the walls. but i have some time. we are stuck in limbo with the kitchen makeover because of a 3-4 week wait for our countertops. arghhhhhhh! so my kitchen looks nice and lovely with half of the cabinet doors off. NOT.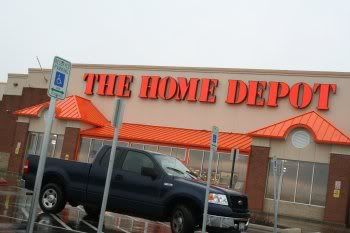 so in my quest for feeling organized, i ripped apart the entertainment center---with doug's help and organized it while watching 24 with suzi and doug. yeah. i just can't sit and watch a movie. i've got to be doing something. always. doesn't it look purty??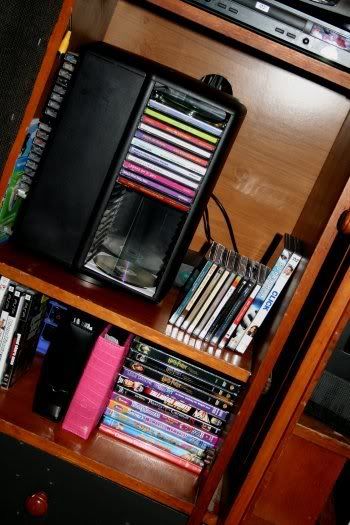 jan 16
who can resist a little girl asking for a little make up party? not this mama. so we had a little princess makeover while watching american idol. (see, told ya i have to be doing something.)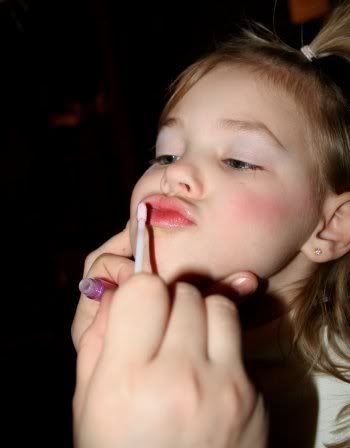 jan 17
a VERY rare, but beautiful moment.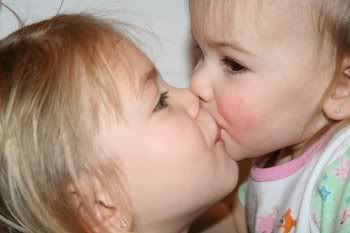 that's all for today.
gotta get my bum in gear and get some projects done.
i've got way too many more to do yet.
can't procrastinate any longer.
tata.