when the kiddie pool comes out and the grill starts smokin', it's offically summer around here! seems that ohio went from winter, straight to summer and completely skipped over spring. we had beautiful spring blooms for maybe 3 days before they were shocked with more freezing temps. now, we're teetering between the mid 80s and low 90s every day. we've been threatened with rain according to the meteorologist for what seems like 95% of the last 30 days, but i think it may have only rained 1 day. hot and dry. blah.
perfect weather for the kiddie pool. here i thought my tupperware had joined forces with the stray sock bandits and decided to go on a mission far, far away, never to return again---but i found they didn't wander far from home this time. who woulda thunk that a spagetti strainer would provide hours of entertainment in the kiddie pool? seriously. real pool toys are soooooooo overrated.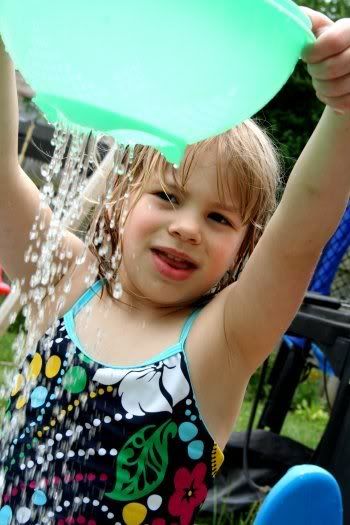 notice the slightly apprehensive look on her face? she's thinking to herself......please don't splash on me water, plllllleeeeeeeeease. after a few times of realizing, yes, it's only going to pour out through the bottom, she loosened up and had fun with it.
and this my friends, is now my new FAVORITE PICTURE EVER!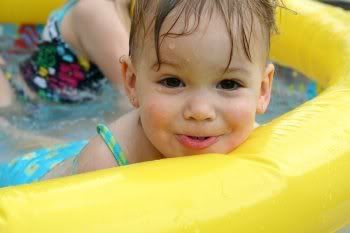 tell me how you cannot smile looking at that picture! man, i love that kid!
anywho. other than trying to keep cool in the pool, the past several days have found us working in the flower garden, pulling weeds and planting some flowers from grammy at the beach. i can't remember the names of them for the life of me, but i'm thrilled to have more of her garden up here in my garden. the girls chose where to put them and helped papa dig the holes. two in the front garden, 2 in the backyard garden.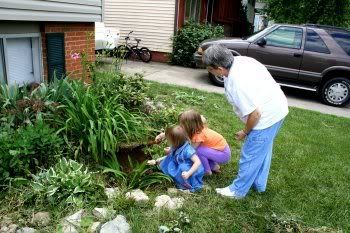 and today, i'm thankful once again for a dad who's quite the handyman. this is a common sight around our house.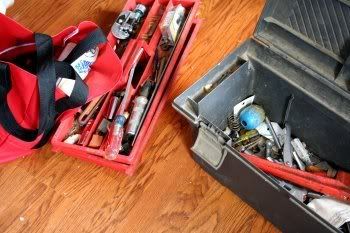 dad's tools all sprawled out all over the floor fixing yet another thing around here that has gone kaput. with owning a house, it's neverending isn't it? he's saved us HUNDREDS of dollars in home repairs in the past 2 years.....and he's teaching doug some things along the way. we're gonna turn him into a handyman yet.
so dad and i got ourselves into a few different projects that have needed attention for, oooooh, the last 6+ months. the two of us put together our canopy swing (that someone so generously purchased for us last year). then dad and doug found themselves elbow deep in ashes trying to figure out what was wrong with the grill. i'm not sure they ever did figure out exactly what it was, buuuuuuuut, they put the tank back on, fired it up and what do ya know-----it's working! there's nothing like some mouth watering grilled cajun chicken on a warm summer night. delish!
i'll be sharing another one of my summer favorite recipes tomorrow!