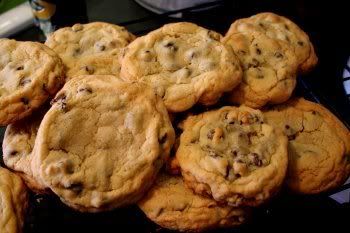 The Ultimate Chocolate Chip Cookies
1 cup packed brown sugar
3/4 cup granulated sugar
2 sticks margarine, softened
2 eggs
1 tsp vanilla
2 1/2 cups flour
3/4 tsp baking soda
3/4 tsp salt
12 oz bag semi-sweet chocolate chips
Preheat oven to 375.
Beat together sugars and butter for 5 minutes (this is what makes them so good)
or until light and fluffy. Add eggs and vanilla, beat until mixed well. Slowly add flour, soda and salt and mix on low speed.
Stir in chocolate chips. Drop by 1/4 cupfuls onto ungreased cookie sheet and bake 11-14 minutes (my oven takes 12 1/2 min. Just check them after 11. Remove from oven and let cool on cookie sheet for 3-4 minutes before removing. Makes 18 HUGE cookies. (unless you like to eat spoonfuls of cookie batter like my kids do)
you must try them.
and i dare you to try not to eat one.
haahaaaa.
it's IMPOSSIBLE.
seriously.
they are soft, not so soft they fall apart, and they stay soft for days.
i prefer to eat them the day after making them.
but i'm weird that way.....i don't like cookies fresh from the oven.
me and the girls made them yesterday. twice.