another fav around here. one mom fixed a lot when i was a kid. and it is scrumdilliumcious!
these two recipes are staples in our house. enjoy!
Chicken Scallopini
4-5 chicken breasts, cubed
2 medium white onions, cut into thin wedges
2, 8oz. containers of mushrooms, washed and sliced
1/2 cup white cooking wine
butter, margarine or olive oil
Saute chicken in a large skillet with a tbsp of margarine over medium-high heat stirring occasionally. In another large skillet, saute mushrooms and onions with a tbsp of margarine over medium-high heat. Stir often. They are done when the onions are translucent and tender, but still have a slightly crunch to them. Transfer chicken to the sauted mushroom and onion skillet and add 1/2 cup of white cooking wine. Reduce heat to medium-low and allow to simmer for 5-10 minutes---or until the liquid has reduced.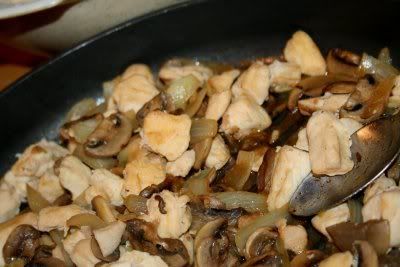 and i always serve it with steamed broccoli and these biscuits......
Garlic Cheese Biscuits
(a la Red Lobster) -- recipe from nikki (waving....hi nikki!)
2 cups Bisquick baking mix
2/3 cup milk
1/2 shredded cheddar cheese
1/4 cup margarine, melted
1/4 tsp. garlic powder
1 tsp. parsley flakes (optional)
Preheat oven to 450 degrees. In a medium bowl, mix 2 cups Bisquick, 2/3 cup milk and 1/2 cup shredded cheddar until soft dough forms. Drop by spoonfuls onto ungreased baking sheet. Bake 8-10 minutes or until golden brown. While baking mix melted margarine, garlic powder and parsley flakes in a small dish. Brush mixture over warm biscuits before removing them from the cookie sheet.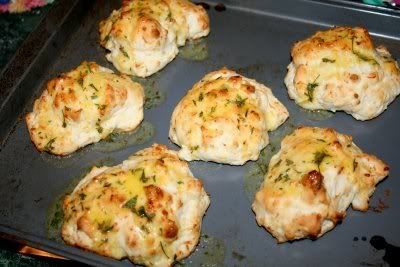 ***************************
so, i've got a million and one things on my to-do list today so it's time to get crackin.
ta, ta!