i'm home.
the trip was wonderful.
filled BOTH 1GB memory cards----that's 500+ pictures.
in 2 days.
wowza.
i came home and 45 minutes later emma decided she was going to puke all night long.
so i'm a bit behind.
but, i did manage to put some finishing touches on a layout i created just for ME.
not to for an assignment, not to mail away for publication.
just. for. me.
the journaling tag says "where does my help come from? my help comes from the Lord, the maker of heaven and earth." it's a song by Casting Crowns called "Praise you in this Storm"
you can hear it here
Praise you in this Storm by Casting Crowns (from youtube.com)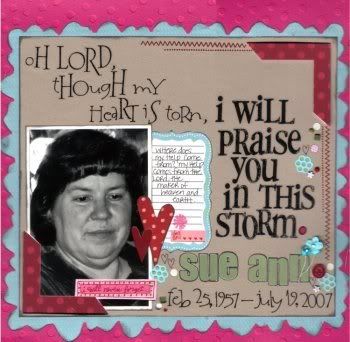 catch me back here tomorrow to hear about the weekend and see some happy snaps of the adventure with the Adventurers!