today is one of those day where my mind is running a million miles a minute. i love when that happens. so, in an attempt to remember all my wonderful ideas (heh, heh) and make a little space for some new ones, i'm stickin' to the trusty brain purge.....
-i hear that the
50mm, 1.8 Canon lens
would kick my photos up a notch.
-this shampoo rinse cup at walmart (baby dept) would make bathtime around here a lot less stressful.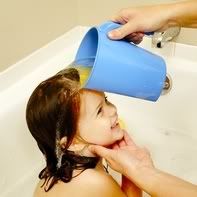 -i've really been meaning to save my pennies for this canon gadget camera bag
here.
how's come there's never enough pennies?
-emma's train cake was made last night. will be eaten wil family tonight. only a week late. pictures tomorrow.
-assignment due tonight at midnight. soooooooo excited about this one. i'll finally be published in Creating Keepsakes. can't tell any more details just yet.
-pondering a way to save kids artwork. right now it's all
crammed
loving placed in an overflowing folder. hmmmm. maybe i should scan some to share. she's moved beyond butterflies to giraffes and horses.
-back on the goal of simplifying. started today with the stack of magazines. pulling out only the pages i'll refer to later and tossing the rest in the recycle bin (save 2 or 3 for magazine collage art)
-the kids drawers need weeded through. speaking of weeds, they are both growing out of their clothes faster than weeds.
-ooooooooh! this one's brilliant---i think. for christmas, i'm sticking to my handmade plan and making the kids finger puppets and dad doesn't know it yet, but i'm going to raid his scrap wood (maybe) and make a tabletop puppet theatre. GO ME! i have all the felt, thread, buttons, yarn already in our craft supply and it won't break 2 days after christmas.
-if i were buying myself a gift for christmas, i think i'd buy this: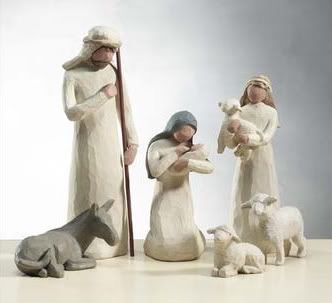 -definitely going to save my pennies for that one. i don't own a nativity set.
-golly. i'm really behind on those christmas questions. maybe tomorrow.