it's been a while.
lots of stuff happening around here and not much time for blogging. i've actually had a few moments where i thought about blogging, but then i just didn't know where to start and i figured maybe ignoring it long enough it might decide to just update itself. wouldn't that be nice......if your thoughts just randomly deposited themselves into a computer file.
anywho...let's play a little game of catch-up.
ready?
thanksgiving:
we spent a short time visiting my mom's side of the family, then scurried off for dinner at dad's house. complete with all the fixin's, including noodles over mashed potatos that connie makes because she loves us, not because she loves them the same. ash had fun hanging with the big kids pretending to play poker. emma stuck to playing with the endless supply of vintage toys at grams' house and fish watching---she loooooooves papa's fish. 'bout 1145pm emma woke up wheezing and struggling to breathe, so her and i headed off to children's ER. back home at 5am.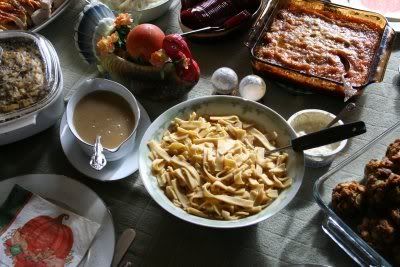 new job:
i started a new job (old employer), part-time. it's nice and quiet and familiar and comfortable. still getting used to the routine though. the girls go to a sitter (in our neighborhood---yay! for convenience) from 1230-530 M0n-Fri now. the novelty hasn't worn off............yet. first day on the new job and emma was sick. niiiiiice. so doug stayed home mon and tues. didn't work wednesday and grandma came to the resue thurs & fri. visits with grandma are always welcomed! this time she brought surprises (an ornament for each girl). she's gonna be leaving too soon for florida. dangit. *sniff, sniff* it creeps up on me every year.
new diagnosis:
emma had an appointment at a pediatric allergist on friday. after 3 1/2 hours in the office, millions of questions, dozens and dozens of pricks for allergens, we now know that emma's breathing difficulities are from allergic reactive asthma. she is extrememly allergic to cats, dogs, dust mites and mold. each exposure is making her reaction more and more critical. so now we have to be very careful of her exposure and can't go anywhere with cats, dogs and known mold. we are supposed to monitor indoor humidty and go through what seems like extreme measures to limit dust mites in her bedroom especially. and she's now on 3 medications with a reevaluation in 6 months. this also means we can't go to the grandparents houses because of the pets. that bites.
MRI results:
found out that the repeat MRI that was done for my back is now showing 2 additional discs that bulging. T11 and T12. that explains the increased pain. family doctor referred me back to the pain management doctor. grrrrrrrrr.
christmas decorating:
it's done. i don't decorate much....just a familyroom tree, a playroom tree, and the village houses. there is something so beautiful about the twinkle of white lights on a christmas tree mixed with clusters of ornaments on the lower branches. so funny how you can tell how tall the girls are by where the ornament hanging stops, leaving the top have bare. and we put up the village houses for the first time in at least 3 years. the kids were so excited opening each one and plugging it in.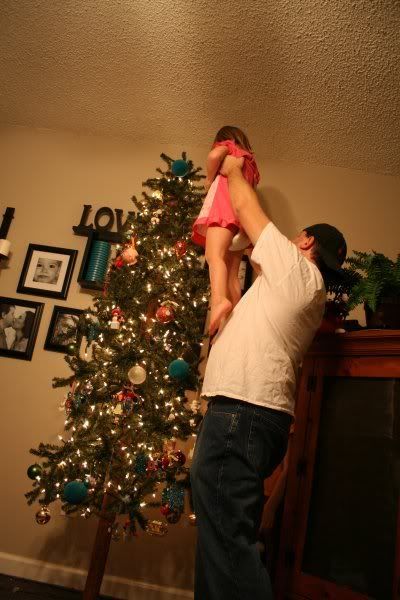 i have yet to put up our advent sock calendar like last year.....or go to the library and gather holiday-focused books to be wrapped and numbered---one for each night between now and christmas. or take a picture for the christmas cards, or even address our christmas cards.
dear santa:
ashlyn was clipping catalogs and pasting her wishes to paper for her letter to santa before the calendar even flipped to december. emma doesn't quite get the concept yet. and i've made a small list. (look for those in a post later this week). she's been working on a list at preschool too and they will take a field trip to the post office later this week. an airforce base in alaska answers all the letters. can't wait for that mailday to come.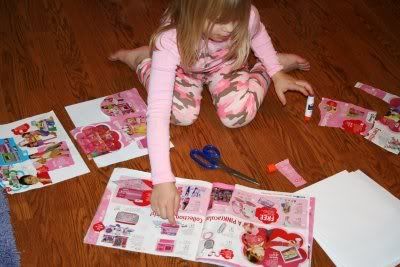 birthdays:
justin (my nephew) turned 3 on sunday and emma turns 3 tomorrow. we had a make-shift gathering for justin saturday night after his regular party was cancelled without notification to the partygoers. niiiiiice. but not all was lost. the kids had a ball playing in the tunnels/tubes at the party location---without the party boy. and we happened upon an art sale too. great art. with proceeds supporting a mission trip. double bonus. as for emma. we haven't had her party yet. not really one planned, but we'll still do the cake/icecream thing with family. hmmmmmm. wonder when we can fit that in? it's busy 'round here. whenever you mention her birthday, all she says is "i want choo-choo cake." she is *obsessed* with trains right now. so a train cake we shall make. can't wait.
oh, speaking of trains. we're thinking of taking the kids on the hocking valley scenic railway
Santa Train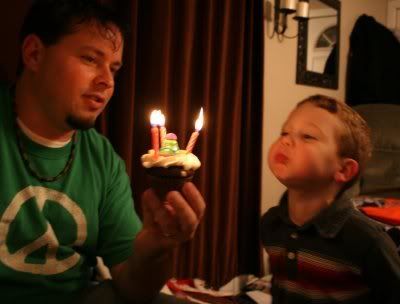 new artwork:
doug bought me one piece at the artsale and connie bought me the other.....for christmas. *smile* i can't find information on the artwork for the livingroom---which is a perfect fit by the way, but the other artist is
Natasha Wescoat
. here is a link to her stuff listed on
art.com
this is the one i picked up. and i'm kicking myself for not going ahead and grabbing the other two prints of hers.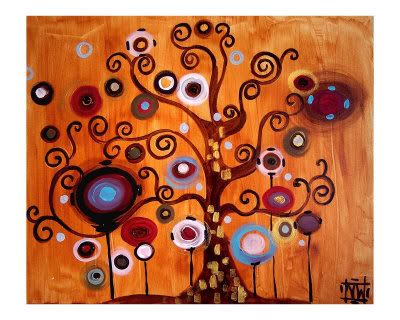 upcoming blogging:
i saw this challenge on another website and thought it would make for good blogging material through the month of dec. i'll just pick one randomly and blog about it in addition to other daily thoughts. starting tomorrow. i'll answer a few a day to start so i can catch up.
1. Colored lights or white lights on your house or not at all?
2. Hot chocolate or Egg Nog?
3. What's your favorite holiday dish?
4. Does Santa wrap the presents or just sit them under the tree?
5. Do you hang mistletoe?
6. When do you put up your decorations?
7. What's your favorite holiday tradition?
8. What's on the top of your tree?
9. Do you have a nativity displayed through the holidays?
10.Candy Canes, traditional or flavored? Or Chocolate Covered Cherries?
11.What's your favorite holiday goodie to make and share?
12.What's your favorite Christmas song?
13.When did you learn the truth about the "magic" of Christmas?
14.Do you open a gift on Christmas Eve?
15.Is there a special ornament or Christmas decoration that you wouldn't feel like Christmas without?
16.Do you take neighbor gifts/treats to anyone, everyone, a select few?
17.Is your big meal on Christmas Eve, Christmas morning or Christmas afternoon?
18.How do you decorate your tree?
19.Snow? Love it? Dread it? Tolerate it?
20.Do you remember a favorite gift?
21.Do you have a family get-together during the holidays with extended family?
22.What's the most important thing that you must do each Christmas season?
23.Do you bake Christmas cookies?
24.Do you leave cookies and milk for Santa?
25.What's your favorite Christmas memory?
26. Christmas Cards. Do you send them? Include a letter or photo? Purchased or Handmade?
27. Holiday Traditions?
28. How do you wrap presents? Hodge Podge or Color Coordinated?
29. How long does your tree stay up after Christmas?
30. Do you purchase new ornaments every year?
31. What is your tree decorating style?
see you later!