december 5th and my baby is 3. where does the time go?
we had a quiet evening as a family eating ashlyn's FAVORITE dinner of all time---homemade chicken potpie. it's seriously funny how excited she gets over it.
we already baked a cake earlier in the week, just because--not for her birthday. so it was the fill-in for the candle blowing tradition. cause you just can't have a birthday without having to blow out candles.....
ummmm....errrr......10 times just to get a not-so-great-but-it-will-have-to-work picture.
this one seriously cracks me up. it's amazing how much air kids have to suck in to blow out candles....so dramatically, but then only get one of them blown out. so cute.
but don't feel sorry for the poor kid that she didn't get a cake. we're saving that for friday night or saturday. we're going to make several mini-cakes and then decorate them as a family with candies to make a train cake. as she requested. i think it just might the replacement for the gingerbread house this year. and of course, i'll share pictures.
we took the easy route this year and didn't even wrap the presents which is becoming an all-too-common thing around here. (ps: the picture above is the present we wrapped for justin) we much prefer the "close your eyes tight and cover them up". doug likes to throw out the "put out your hands" after telling them to "close your eyes tight and cover them up." it confuses the heck out of them, but it is funny to watch and see how they try to do it all at once.
no seriously. we bought wrapping paper to wrap her gifts and justin's gifts. we wrapped justins and in the chaos of trying to get ready and out the door to the party that really didn't exist *insert eyeroll* emma decided that since she was ready and everyone else wasn't, she was going to have some fun. she unrolled the entire roll and then danced all over it. so she still had fun with the wrapping paper.
anywho.
and what did the birthday girl get for her birthday?? she got a Color Wonder Crayola coloring book and marker set---gotta love those! and she got this adorable little train. all the blocks come off and she can restack them again and the front lights up and it makes train sounds---but not annoying loud train sounds. AND double bonus. it has an on/off switch. thank you to the designers at imaginarium.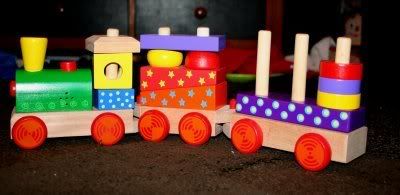 and a little funny that would be a lot cuter if you could hear her say it...
when i sang happy birthday to her for the umteenth time yesterday, i asked her how old she was and she replied "one, two, one, two, one!"