19. Snow. Love it? Dread it? Tolerate it?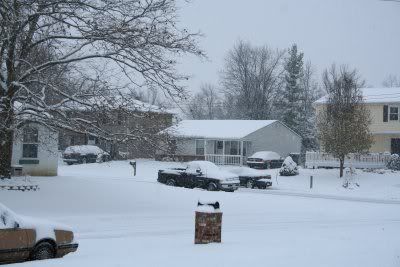 for the second time in 3 days we've been hit with 3-5" of snow. i love it because it is so incredibly beautiful to see the earth covered in a blanket of the fresh white stuff. not only that, but it also means i have a good reason to sit and snuggle with the littles while sipping a cup of hot chocolate and watching polar express for the 368th time since nov 1. have i mentioned emma is obsessed with trains?
but i hate it because i'm now working part-time in the afternoons and that means i'm have to scrape the car (without a scraper), warm it up, bundle up both kids--coats, scarves, mittens, hats, and snowboots and attempt to not layer too heavily so i can still buckle emma in her carseat and drive the 1/8th of a mile to the babysitters house.....all.by.myself. whew. it's exhausting. and doesn't do wonders for my back either.
but it's still pretty to look at. *smile* actually that's the first thing ashlyn said when she came home from school yesterday. "mommy, did you see all the trees outside? they are so beauty-ful and all glittery and sparkly."
and there's nothing that's cuter than them begging to play outside in the fluffy white stuff all day and then when they finally get the chance, they are out there for a whole 2 minutes before they come back in and drop the extra clothing baggage in the middle of the floor, begging for a hot bath and some warm milk to warm up.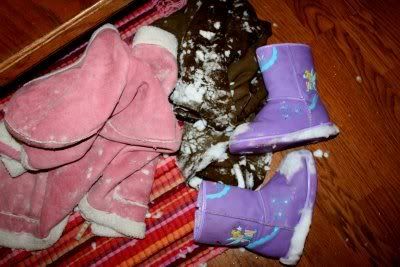 and today, i'll answer a few questions from the list........
1. Colored lights or white lights on your house or not at all?
we've never put lights on our house, always wanted to, but just haven't made time to do it. if i did have lights on the house, i think they'd be white.....the dangly icicle kind. although i do love colored lights on houses when we drive by to see them. the remind me of a gingerbread house.
2. Hot chocolate or Egg Nog?
egg nog? blech! i'm a hot chocolate gal. and i have *the* BEST recipe ever for it from my step-mom. soooooooo much better than the powdered packets from the store.
Hot Chocolate
1 large box of instant dry milk
11oz powdered creamer
1 (16oz) container of Nestle Quik
1 c. powdered sugar
Fill cup 1/2 full with mix, add hot water. Stir and enjoy.
for an easy-peasy teacher/neighbor gift, i package a jar of the cocoa with chocolate dipped spoons. i dip regular disposable spoons into melted milk chocolate chips and lay on wax paper to set up and harden again. before they harden completely, i add 3-4 mini-marshmallows to the spoon. (you can speed the cooling process by putting them in the fridge for a brief moment. then i wrap them with a cellophane candy bag (sandwich baggies work fine too) and festive ribbon. they've always been a hit.
6. When do you put up your decorations?
we've always waited until after thanksgiving and the past few years it's been shortly after thanksgiving. but this year, i'm finding myself overwhelmed by all the stuff i still haven't done that are usually traditions.....like wrapping seasonal books for the kids to unwrap one per night to read as their bedtime story (this curbs the constant asking...."when is christmas gonna be here, can we unwrap presents yet" whining)....or like the sock advent calendar (which i'll be blogging about soon. we have two birthday's between thanksgiving and christmas (emma's and justin's) so i'm seriously considering adopting
Steph's
gameplan and not decorating until after the birthday's. think that would give me time to get things in order, or would i still procrastinate?
8. What's on the top of your tree?
a handmade gold sparkly bow. although ashlyn has been begging me to buy a star for the top of the tree. so i'm on the hunt. feel free to link me in the comments to pics of your tree topper.....i need some inspiration of what to look for.