wow.
12 days without posting to the blog and dad hasn't called to say, "what's up, you need to update that thing." hahahaaa. he keeps me in line.
so what have we been up to?
does this picture give you any hints: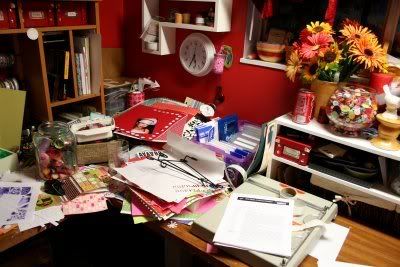 we're all finally recovered from being sick. it hit us hard this time around. all of us. the girls had walking pneumonia and em had it coupled with an ear infection, i had a nasty cold/flu and doug had severe bronchitis and a nasty sinus infection. SO glad the sick bugs have left the station.
i've been deep in the mess of my studio working away at trade show assignments. January is always my busy month creating. not attending the show this time. and you know what.....i only miss it a little bit.
so, i decided to put more pressure on myself and pile on even more design work and enter Creating Keepsakes Hall of Fame competition. yeah, it's a contest. and yeah, the chances i'll win aren't great, but hey, i forced myself to scrap----something i haven't done much of since mom passed away. and i LOVE all the pages. but rules say, i can't share peeks. the announcement is in April, i think.
oh..........the PINK party is coming up. more about that coming soon to another post. the party is tomorrow!

for the first time in a long time, i feel like i'm gracefully keeping all my plates spinning and none of them are crashing down around me. love the feeling. hope it stays around for a while (knocking on wood)
which also means, the depression cloud has lifted.

have i shared this yet? the other day, ashlyn was getting ready for school and doug was running out the door for work and she stopped and said "daddy. ummmmm. one question. you look HOT today." so totally random and so completely hilarious. she's a keeper.
kicking myself because i totally spaced on putting out the donation for Kidney Foundation this morning. they're gonna put a big fat black line through my name, i'm sure. and i worked hard to weed through all the clothes for donation.

looking forward to doing my taxes.
i want some snow. enough for a snow day. enough to build a snowman. totally jealous of Torm and her super sweet snowman making skills.

ttfn!
be back soon with another update.