hey, hey. this is my 300th post to my blog!
anywho.
today is all about recovering mode and resting from all the energy that went into the pink party....oh, and the 45 projects i created for work last month. phew. so glad that sunday is a day of rest.
so, if you're wondering what exactly a pink party entails, here ya go.........
suzi was all cool and whatnot as a kid and always had parties with her friends. me, not so much. i was much more to myself. so this whole concept was totally her idea. so, thanks, hey.
after deciding on a guest list, for the princess......we threw this party to celebrate ashlyn's birthday. yes, i know. it's feb 9th and she's still celebrating. even though her birthday was a few weeks ago. she's already learned to drag it out for a month. smart girl. oh, and i know too that feb 9th is also doug's birthday. but it's all good. we sent him packing with the boys for the night. it was win-win.
back on track.
so after deciding on a guest list. which included all the "cool girls".....also known as suzi's friends....the 20 something crowd, we were on a mission to find some fun invitations. enter target dollar spot and the super cute pink mailboxes they have right now. and we came up with this: (just excuse the bad lighting.....i'm not a great photographer.)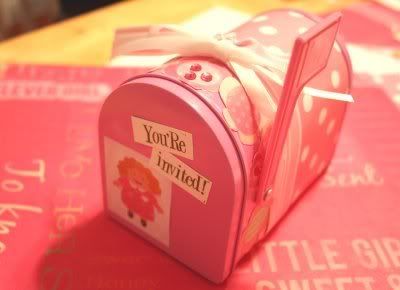 then, in total suzi, over-the-top style (which i LOVE), she took ash out for a girl's day and bought all kinds of goodies to fill the mailboxes with. bead necklaces, girlie pins, notepads and pens, other assorted party favors and chocolate! then we typed up the information about the party, letting the attendees know that they must where pink to be admitted to the happenings. anywho. then they wrapped them in pink bags with pink tissue and hand delivered them.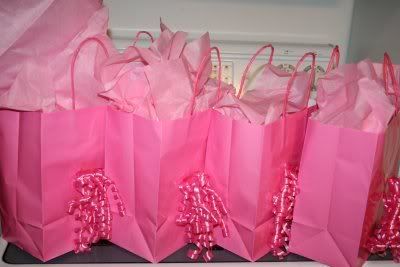 so thursday night we were talking about decorating for the party and i thought it would be soooooooo cool to fill the entire livingroom with pink helium balloons. great idea, right? so friday, we went to a few stores to gather plates, napkins, cups, etc for the party and while we were out decided to price balloons. 50 cents per balloon for helium........and you have to buy your own balloons???? what the heck is up with that? enter new plan. so suzi bought a bag of 90 balloons, 12" ones. and we spent the next 2 hours goofing off and blowing them up.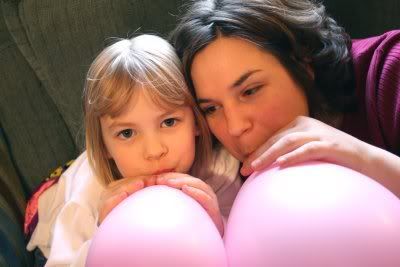 even the little princess got in the action. it's still quite hysterical to watch her blow up balloons. she tries soooo hard.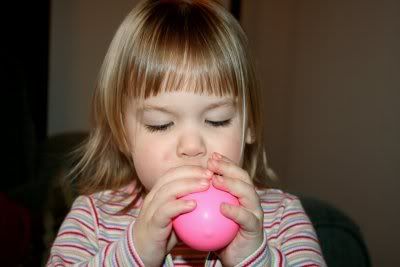 then, we tied ribbons to all the balloons, gathered them in bunches of 5 and tacked them to the ceiling with thumtacks and ended up with this.......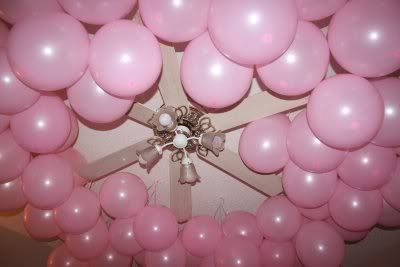 it was really hard to get a good picture of what the whole thing looked like because i don't have a wide-angle lens for the camera. anywho. you kinda get the picture.
then we made yummy cupcakes, but they couldn't all be pink because the princess doesn't like pink cupcakes. she only likes chocolate with chocolate icing.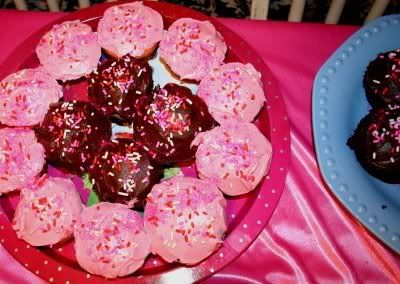 and we had yummilicious food. pizza, corn and black bean salsa (i'm too lazy to link, but if you click on the recipe word over there --------> in the sidebar, then you'll find it.), pink fruit dip, strawberry cupcakes, pink M&Ms, and a totally loaded chef salad.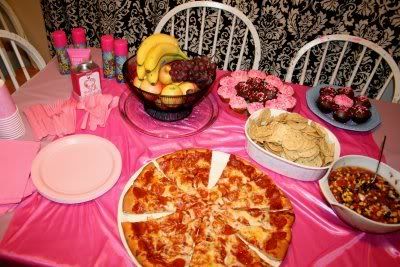 ash was spoiled rotten by the cool girls with lovely gifts including the barbie island princess and a princess scene it game, cute jewelry, lip glosses, candy necklaces, art stuff, coloring books, sandart kit, and more.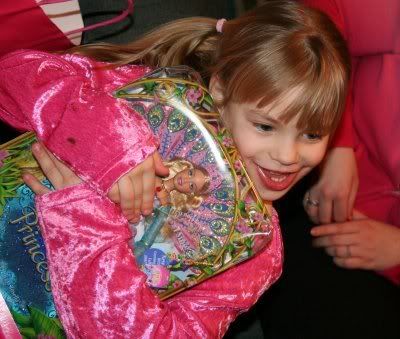 and who could resist this little girl and her total cheese face. i love her little squinty-eyed smile.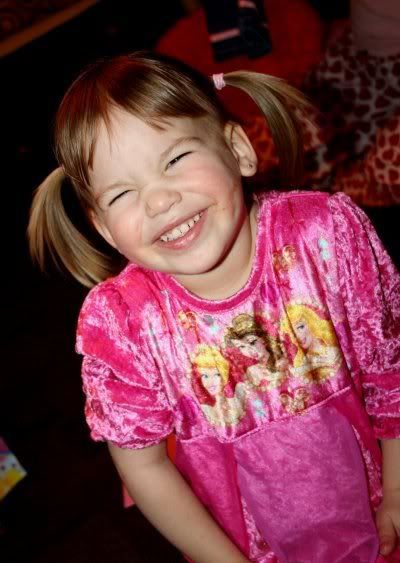 you would've thought it was her special day, she was so adorable the whole night, asking over and over to hold the baby that was there.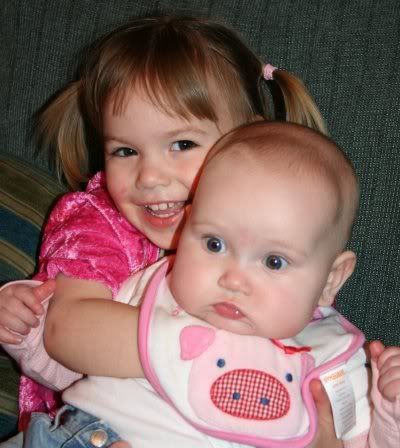 ooooh, almost forgot. halfway through the party we surprised ash with a silly string attack. totally the WRONG idea. what was i thinking? she hates surprises, has trouble with odd smells, and it was a totally overwhelming sensory experience. and i attacked her with silly string. did NOT go over well. at all. but she recovered quickly once she got her hands on a can and was able to spray someone else.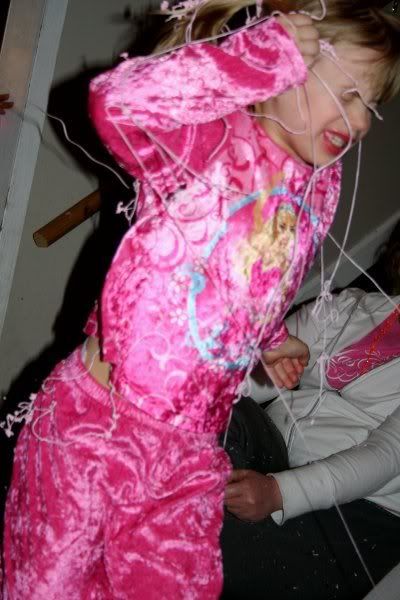 later she found me alone in the kitchen and cuddled up to me and said, "it's okay mommy. just next time don't surprise me. i didn't like it very much." man, she's growing up.