i know that most of you probably don't come here to see my scrapbooking, but i've been wanting to share these favorites. good for a day when i don't have much else to say. so instead of babbling nonsense, i'm sharing my art. (the ones i entered into the Hall of Fame contest at the beginning of the year--the one that i didn't win)
i've been trying really hard lately to make every page of my art count. to get my thoughts and feelings down on paper. sure the pictures and paper and embellishments are pretty, but i want more than pretty. i want the beauty of the back-story to come alive and take presence.
it's hard for me to write. writing is NOT my thing. not at all. i wish i could tell stories like
Sharyn
or like
Lisa
, or
Cathy Zielske
, but, for now, i'll just enjoy their quirky, witty, interesting story telling expertise and keep trying with all my heart to get words down on paper.
anywho. you've already seen three of them.....remember? the cooking one,
"I love to Cook"
then the historical farm,
"Slate Run"
, and you've seen ashlyn's funny,
"One Question"
. so that means there are 6 more....and a framed art project.
wanna see? sure you do! if not, just humor me, will ya?


"Flower Girl"
...journaling (kinda boring journaling) reads: 9/2007. The union of Kisha and Lonnie Hale. You were asked to be their flower girl and you were absolutely beautiful. Soon enough it will be you getting married.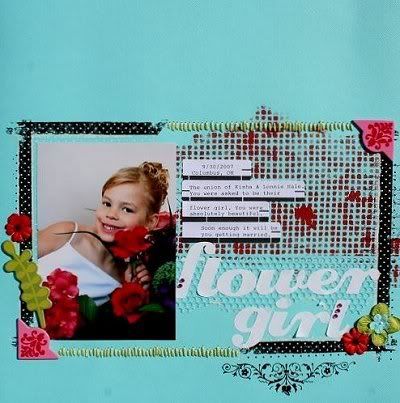 detail shot...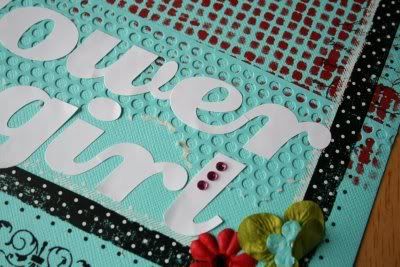 "Stillness.....a rarity"
journaling reads:
Anyone and everyone that knows my Ashlyn will tell you WITHOUT hesitation that this is absolutely, positively, a 100% complete and total rarity for her to just sit still; to just be. It just isn't in her genetic makeup. No way. No how. She just wasn't wired to have a calm, content disposition. She's my outgoing, spunky, energetic, sometimes outrageous, extremely excitable, high-strung, often agitated, and fidgety princess. Very fidgety princess. And, she has this contagious laughter that is out of this world and so completely charming! Did I mention that she doesn't sit still? Nope. She doesn't. But, in this one moment, I captured her, being still. And it's my favorite picture of her. A rare gem indeed.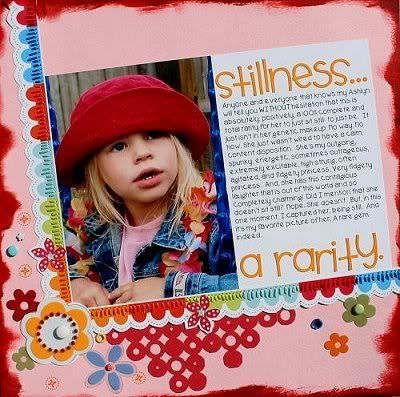 "Intolerant"
journaling reads:
The first true phrase from her mouth at a mere 15 months old was "it's so sunny," in that irresistible squeaky toddler voice. As all first-time parents, we were just so shocked (and excited) that she could tell us how she felt. Then, it became more frequent and quite annoying because it seemed like more of her way to manipulate us as parents. We were starting to hear it on cloudy, overcast (but still a little bright) days. So, although annoyed, we humored her complaints time and time again, by handing over sunglasses. We were always equipped with a pair of sunglasses. Always. She seamed content with that for the most part. As each year passed and the intolerance to light continued, we realized it wasn't just a cute little toddler phase, but more of a daily issue that was spilling over and starting to affect every area of our day to day routine. This little quirk wasn't going away. This intolerance, along with other sensitivities, pushed us to make mention to her pediatrician. It was then that she was sent to Children's Hospital October 26, 2006 for an evaluation and immediately diagnosed with Sensory Integration Dysfunction. The intolerance continues, but through occupational therapy services we are learning how to cope with a child that suffers from this disorder.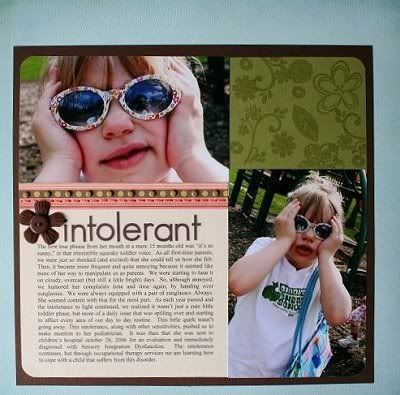 and one more for today. that brings us to 7. i'll share the other 2 and the wall hanging soon.
"Lil Fish" journaling reads: this little girl.........100% extreme opposite of big sister, is completely obsessed with WATER! she LOVES to swim. you can't get her out of the pool without a fight. once she's out of the pool, first question out of her mouth...."take a bath?" smart kid.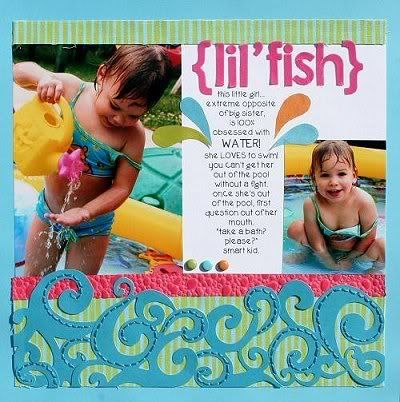 detail shot...