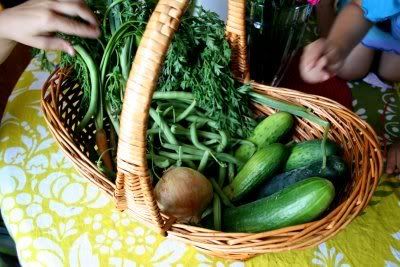 spent the morning at grandma's house, gathering the bounty of vegetables as i listened to stories of her youth and all the ornery tricks she used to play. we had picked the rows of beans, twisted off the zuchinni, chopped off a head of cabbage and started on the cucumber patch, when out of no where grandma hollers....
"you're not on your period are you? 'cause if you are, you just get
on out of those cucumbers, you'll kill the whole patch."
i laughed and told her no.
she continued..."it's true. so and so (can't remember who) killed a
whole darn patch when she picked cucumbers while on her period."
seriously. have you ever heard such a thing? can't can batches of pickles on your period either. they won't turn out.

now, where in the world did she hear that!?!!!!!