hello friends! just thought i'd share a fun after-school activity/snack that you and your children are sure to enjoy! it's quite simple.......and a fun recipe to help young kids build confidence in the kitchen. and they also make a GREAT gift!
first you'll need to gather your supplies: bunch of fresh, firm bananas (really ripe bananas make this project a mess), magic shell ice cream topping - chocolate fudge flavor, craft popcicles sticks (they even have these at walmart in the craft department), waxed paper, a cake pan or other shallow dish, butter knife. (NOTE: if you are making more than 10 you'll need a second bottle of magic shell. also, NEVER refrigerate your magic shell. the cold temperate makes the chocolate harden.)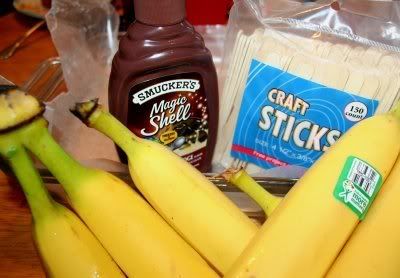 1. Peel your bananas, cut them in half, then insert your popcicle stick into the cut portion of the banana. Insert the stick slowly and along with the curve of the banana so you don't have any mishaps during the eating stage. This also helps prevent the banana from breaking apart.
2. Place your bananas on a stick in a waxed-paper lined dish and put in the freezer for at least 4 hours........i do mine overnight. You could do this step after dinner and then it will give the kids something to look forward to after school the next day.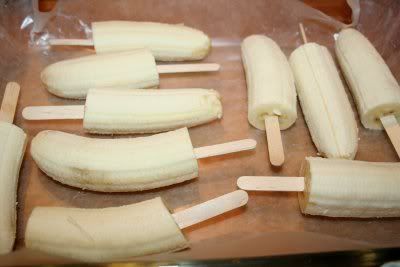 3. Remove bananas from the freezer, then shake your magic shell vigoriously for 2 MINUTES. do not skip the shaking step.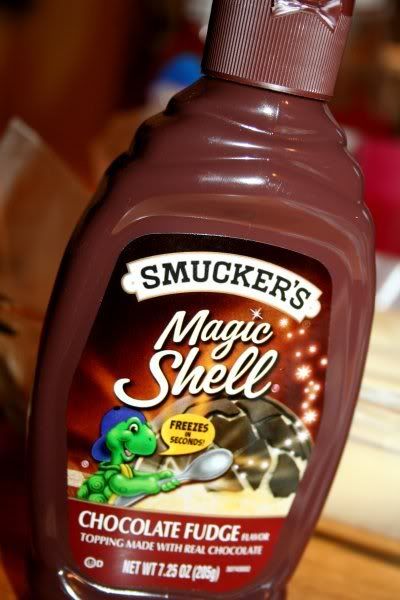 4. Gather your supplies: a medium to large plate, butter knife, waxed paper lined dish or cookie sheet. Then, squirt out a small puddle of chocolate onto a plate.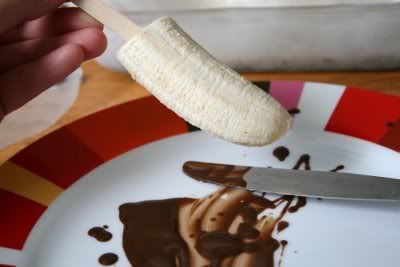 5. Then holding the popcicle stick like so, and start drizzling the magic shell where the stick meets the banana. (NOTE: you'll need to work quickly because the chocolate pretty much freezes within 30 seconds of contact.)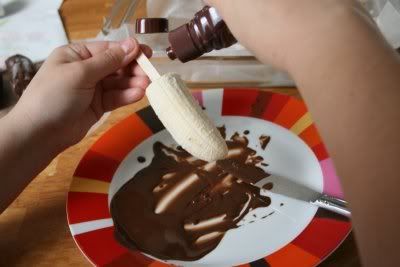 6. Continue drizzling until you have decent coverage.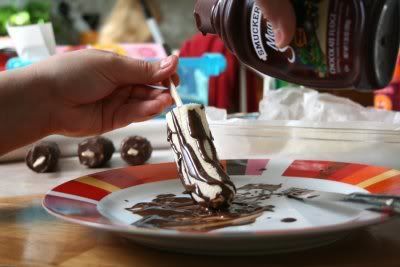 7. At this point, roll the entire banana in the puddle on chocolate on the plate.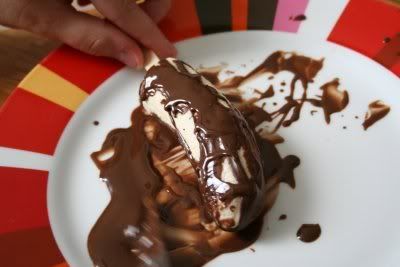 8. Use a butter knife to apply to the areas that won't cover easily.
(NOTE: if you work quickly enough, at this point you can roll the chocolate covered banana in crushed walnuts, or add sprinkles, or crushed oreos...........whatever you prefer.)
9. And here's your finished banana.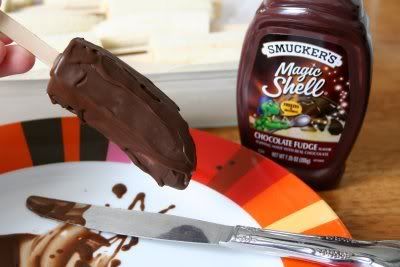 10. Lay it on a waxed paper covered cookie sheet or baking dish until you have them all covered, then return to freezer.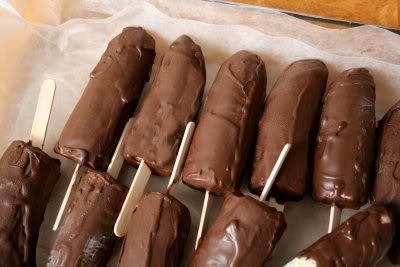 You can very easily gift wrap these to give as a gift as long as you have a way to keep them frozen. I simply snip off the zipper seal portion of a sandwich sized ziplock bag, insert the point of the banana into the bag toward one corner, then gather the excess baggie around the stick and tie closed with ribbon. Then, i line a shoe-box sized gift box with tissue paper and lay the wrapped bananas inside, put the lid on the box and top it off with a wide ribbon closure and add a card or gift tag.