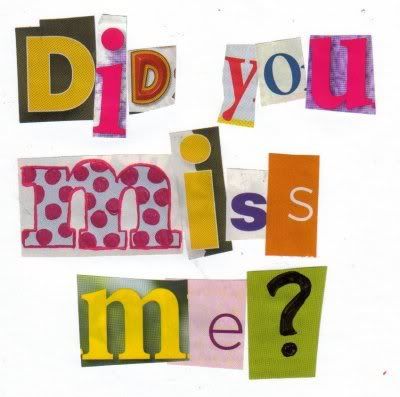 geesh, it's taken me forever to recoop this week. it was a doozy.
last sunday we experienced the remnants of Hurricane Ike here in Central Ohio with a 12 hour wind storm bearing 75 mile per hour winds. it started around noon, and picked up speed around 3pm. at 3:30pm, our power went out..........for 3 days. the power outages covered a huge area of town with 1.9 million without power. but they were rather sporadic in which areas they affected. we were thankful to have gotten power restored after 3 days, just 20 minutes after i hung up my cell phone with the power company and they told me it would be another 6 days.
actually, as i type this, some families are still without their power.
there were falling tree limbs and downed power lines everywhere. thankfully, we didn't sustain any significant damage to our house structure or our vehicles. we did lose about $600 worth of food due to spoilage and had minor damages to our gutters, siding, privacy fencing and storm door. but that's what you have insurance for.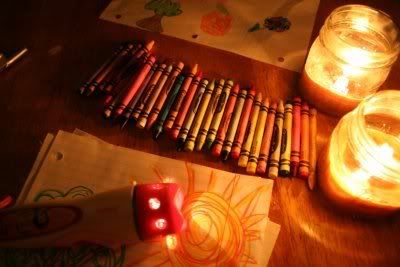 so sunday night the kids thought it was the coolest thing ever to have no power. first thing we all did was make use of the hot water while we had it and took baths and showers. then, we did fun stuff like pizza for dinner, coloring by candlelight, magazine word collaging, practicing sight words, playing with play-doh (which used to be a daily favorite, but hadn't come out for months), flashlight tag and listening to the ball games by radio. they kiddos fell asleep by candlelight. it was dreamy. no excess television noise-----can the power go out more often?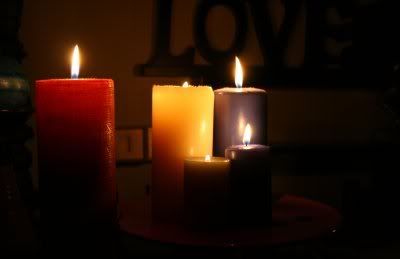 monday was spent driving everywhere. there was no school which we knew from watching our battery operated 3" tv, day care was closed, which i didn't know until i drove all the way over there. businesses were closed, like my work, which i didn't know until i drove all the way over there. most businesses were operating very minimally by generator. really, just about everything was closed. except the parks.
so i packed them up and headed to the park so they could blow off some steam. wow, was that the wrong move. acorns showered the sidewalks, along with crabapples and some other round, walnut sized, spikey thing. limbs down, leaves covered the pavement. lots of limbs half fallen, ready to give way any minute. it wasn't a safe place to be. so back home we headed for a snack, puzzles and a nap.
by monday night, the kids were growing weary, tired of eating food that wasn't "mommy's cooking", and all they wanted to do was watch cartoons. so we packed up, drove 20 miles down the road to Lancaster where we found restaurants in business WITH power. yahoooooooooie! we grubbed on some italian and made a pitstop at dad's for a hot shower, and to charge our cell phones, then back home to the quiet darkness. until i realized that the laptop might still have some battery power. it did! so the kids watched about 25 minutes of a scooby doo movie before the battery drained. at that point it was bedtime. thank goodness for a cool front following the storm and the ability to sleep with the windows open. refreshing!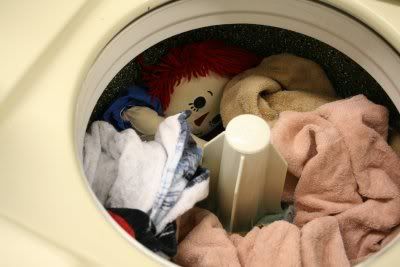 tuesday....again, no work, no school, but daycare is now open! power company stating power restoration will be in 7 days! going to the grocery before each meal is getting old by this point. ICE is NOWHERE to be found. sold out everywhere. gas prices skyrocketed. my laundry was piling up at this point, along with the two loads that were in progress at the moment the power went out. niiiiiiiiiice. so one kid went to daycare, the other got put to work at the laundry mat. afterall, Baby needed a bath. 8 loads and 3 hours later in the hot steamy building we decided to make a pit stop at suzi's for a shower. afterward, we headed back home to grill some meat over a bonfire and heat vegetables for dinner. we had enough of the drive-thru dining.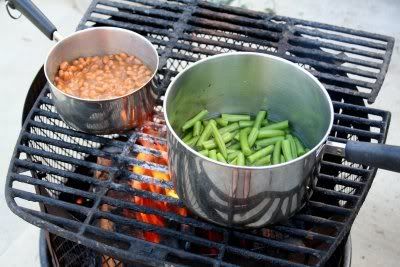 at this point the power company had set up a system telling power restoration schedules based on where you live. so another call to the power company told us that we wouldn't have power until Monday night 9/22. it was only tuesday 9/16. suzi talked us into packing an overnight bag and staying over there. and wouldn't you know.........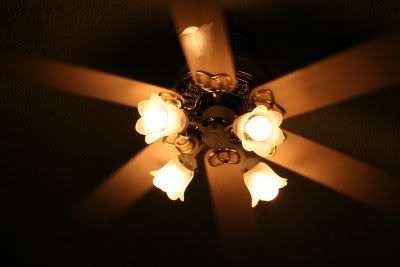 as soon as i finished gathering up pajamas and outfits for all 4 of us, along with bed linens, pillows, medicine, and a few activities for the girls, the power was restored. i didn't believe it was true. and honestly didn't expect it to stay on permanently. but never once did it flicker, or go back out after that. and the mad dash to the grocery store took precedence over everything else.
phew. what a week.