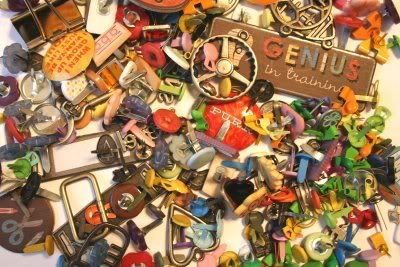 in case you missed my post yesterday, it's once again time for me to make some much needed room in my studio for the new products coming in. so, in an effort to spread some LOVE and reduce the clutter in my studio, i'll be doing a giveaway every.single.day. right here on the blog up until Christmas!
to be entered, all you need to do is leave a comment each day, then come back to see if you've won! and winners will be drawn using random.org. it's all FREE, and i'll even handle the shipping. oh, one more minor detail.....if i don't get an email from the winner within 48 hrs of the announcement, i'll be drawing another name so i can get this stuff outta here! fair enough?
go, tell all your FRIENDS! link to my blog from your blog.....spread the word. here's what's up for grabs today.........a jar, packed to the top of random embellishments, charms, and wooden accents. the photo doesn't even show it all. (excuse the poor lighting. it's pouring rain today)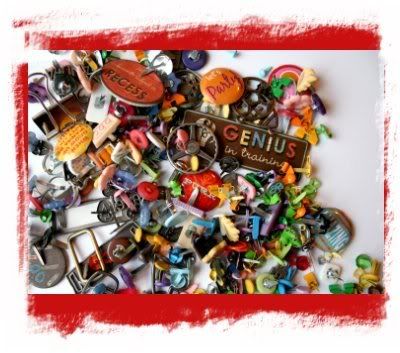 and............because
Sharyn
tagged me, here's 7 random things.
random numbero uno.
in fourth grade, i started taking tae kwon do, and continued to do so for many, many years. i have a black belt, but am sorely out of practice. there were a few years jn the beginning that i was the butt of all jokes at school---"wax on, wax off, wax on, wax off". you know. karate kid the movie was the popular thing to watch back then. i'd often be greeted in the hallway at school with the crane kick stance, then off they'd shuffle snickering away. it never bothered me though. i knew i could hold my own, and really they did too. anywho. we traveled to tournaments and i also traveled to various community centers to help the Masters teach too. i once took Grand Champion in a tournament and came home with a trophy almost as tall as i was. i'll dig out the picture sometime.
random number two.
i'm a dreamer. and i like to plan things. things like how'd i'd reorganize or redecorate, or a fun family vacation. but, most often, those things stay up in my noggin and never get executed for various reasons.....monetary restraints, time constraints, OR, i come up with a whole different idea and the first one goes to file 13. sometimes i have the supplies, the time, and even the energy, but i don't follow through for fear that it won't turn out how i see it in my head and i'll be disappointed. fear of failure keeps me from doing a lot of things.
random number three.
i've never had a cavity. never ever. or braces. watch, i probably just jinxed myself.
random number four.
i've always had a feeling for music. in 5th grade i started out playing the trumpet. i don't remember playing it too long----i switched to clarinet, maybe in 6th grade. then in highschool, the clarinet went into storage during marching band season because i was recruited to play the 24" cymbals. why me? because i was the only one (out of all the bandmembers) that was strong enough to carry them. heh. who's makin' fun of the karate kid now? suddenly i was the coolest! i won't lie though. it was tough being the 24" cymbal carrier. crash, body choke, tap, tap, tap, crash, body choke.....those body chokes were killer. they were constantly pinching my left bicep muscle and i literally looked like i had been abused since the pinching left bruising from my elbow up to my shoulder.
random number five.
i need to go shoe shopping. it's getting just a wee bit too cold for my flip flops. 30 degrees today. and yep, i'll be wearing flip flops. insane. i know. sometimes common sense in my vocabulary.
random number six.
did you know i graduated highschool when i was 16? yep. i did. i was always in advanced classes, and by the time i reached my sophomore year and was planning for my junior year course, i realized i had taken every level of math and science that the school offered and by the end of the next year i'd have enough credit hours to graduate. the only thing holding me back was in ohio you had to have 4 credits of english. sooooo, after many meetings and get the parents to agree, i signed up for summer school English to make up that one credit (easiest english ever, that summer school stuff!), and my junior year, then became my Senior year. looking back-----stupidest thing i ever did do. i wish i would have just taken that whole year to take electives that i didn't get to take because i was in band. like art, and photography, and.......
random number seven.
man, this is hard. ummmmm, i absolutely HATE the smell of Fritos. they smell like dirty feet. blech.
and i'm supposed to tag seven people:
(be back soon to do that....off to work!)
ETA: TAG, you're IT!
i've picked other crafty folks who INSPIRE me....
Kendra
Lisa
Nora
Stephanie
Kara
Dina
Steph