announcement time.
i'm THRILLED to say that my last post might have been the first post on here about Get It Scrapped: Online Classes at debbiehodge.com, but it most definitely will not be the last.
my job as a freelance artist has taken me on an incredible journey. and now it's taking another exciting turn that i can't wait to experience. i have such an incredible passion for teaching my art......and the cat is out of the bag now.
lookie here---I am TEACHING online at debbiehodge.com.....the page went live just a few days ago!
Get It Scrapped Teachers
: (left to right, (top)
Debbie Hodge
, ME,
Sharyn Tormanen
,
Trish Turay
, Lynn Weber, (bottom)
Pattie Knox
,
Dina Wakley
,
Doris Sander
,
Janet Ohlson
,
Tami Taylor
, and
Paula Gilarde
)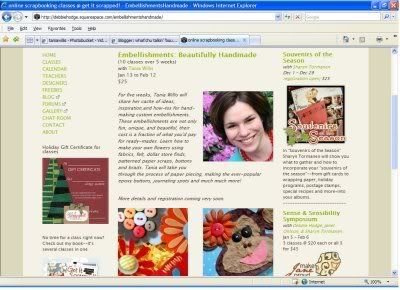 starting jan 13th, i'll be teaching an interactive, online, 5week, 10 lesson course on how to make beautifully handmade embellishments. details here:
Embellishments: Beautifully Handmade.
For five weeks, Tania Willis will share her cache of ideas, inspiration, and
how-tos for hand-making custom embellishments. These embellishments are not only fun, unique, and beautiful, their cost is a fraction of what you'd pay for
ready-mades. Learn how to make your own flowers using fabrics, felt, dollar
store finds, patterned paper scraps, buttons and brads. Tania will take you
through the process of paper piecing, making the ever-popular epoxy buttons,
journaling spots and much much more!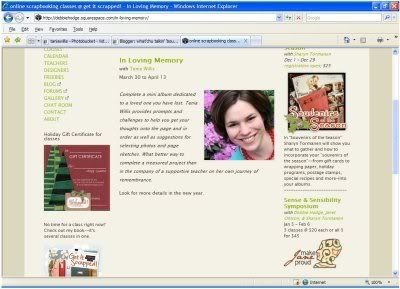 and then March 30th you can join me as i hold your hand and we walk on a journey of rememberance and are prompted to record all the bits and details of the life your loved one(s) lived and the legacy they left behind. details will be forthcoming here:
In Loving Memory
.
Complete a mini album dedicated to a loved one you have lost. Tania Willis
provides prompts and challenges to help you get your thoughts onto the page and
in order as well as suggestions for selecting photos and page sketches. What
better way to complete a treasured project than in the company of a supportive
teacher on her own journey of remembrance.

it's been hard to keep quiet, because what debbie has going on there is SO brilliant and so inspiring. i'm so excited to see where this journey takes me. YAY! i'll be sure to post again when registration goes live.