being a crafty mama of two crafty girls, i have quite the soft spot for kids artwork. so that means it gets displayed just about anywhere and everywhere there's an open spot. walls, doors, in picture frames, scrapbooks, on the fridge, cabinet doors....and even the tile in the bathroom--thanks to tub crayons. there's just something about those little works of art hung by little bits of tape that i find irresistable.
i've always had in the back of my mind to make time to create a special art gallery for the girls and one day in particular, i when i heard the agony in their voices as they discovered their tape stash had been exhausted and even daddy's tape stash (electrical tape, masking tape, painters tape, duct tape) had been exhausted, i decided to move that little project to the top of the list.
so i started. by putting up a collage type picture frame and another framed butterfly that ashlyn drew and i framed a long time ago. since butterflies are what remind us of 'big grammy' it seemed like a good place to hang it.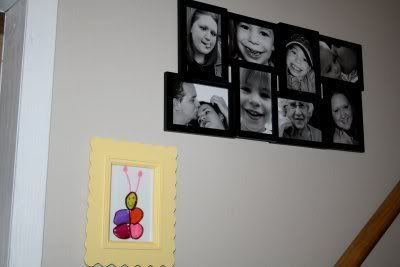 then, i dug out a stack of frames from my closet that have gone unused since we moved almost 4 years ago. in my quest to repurpose.reuse.recycle, i headed out for a $1 can of spray paint. then i went to work taking the glass and photos out of the frames one night. the next night i spray painted them all matte finish black. then hung them up.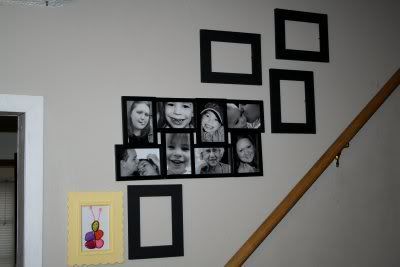 in an attempt to keep the entire house from being blanketed with artwork, as i clean house and gather papers, i tuck them away into an accordian file keeper. so i sifted through that, cut them to size and got to work tucking them into their new homes.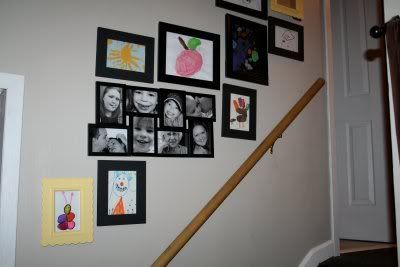 and they there hung for 2 weeks. the whole time it just didn't feel right. too cluttered or something. so, i thought maybe simplifying/condensing and removing the photo collage would do the trick. so that, i did. i'm so indecisive when it comes to this type of stuff.
anywho. now, we have this.
and it makes me smile big, all.day.long.