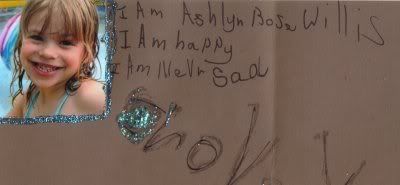 monday mornings are always a struggle around here. what keeps me going, though, is seeing this simple statement from my daughter.
the weekend is just long enough for ashlyn to get used to staying home, so then when the routine changes and it's back to school, she gets all discombobulated and it's rough getting her back on track. it kills me that she struggles so much with changes in her environment. i often feel helpless.
this morning was even more difficult since the holiday had her out of school for 5 days straight.
java diva commented in the post where we decorated the tree and asked whether that was ashlyn laughing or crying..........she was most definitely crying. it's a common sight around here, and one that i've been photographing more and more lately because it's the reality of our family.
for my new readers, my oldest daughter was diagnosed with Sensory Integration Disorder in October 2006, but more specifically, Sensory Defensiveness. her sensory meltdowns are such a daily part of our lives.
it's so difficult to explain and understand, even for me. i really don't know if i've even done a good job explaining it to family. here's the best description i've found online from wikipedia.org:
"Common symptoms of sensory defensiveness include intolerance of high-pitched noises, intolerance of overhead lights (especially fluroescent lighting); experiencing a feeling of being attacked upon being touched (especially from light touch or sudden touch); intolerance of certain types of fabrics in contact with the skin; becoming nauseated upon smelling something that does not smell bad to normal individuals; difficulty maintaining eye-contact; severe intolerance of foods due to taste, texture, or temperature; and generally becoming overwhelmed when exposed to a lot of sensory stimuli at once.
Intolerance in this context should not always be taken as unwillingness to be subject to the sensory stimuli in question; rather, intolerance is an inability to process the sensory stimuli in any way other than as over-stimulating, because the sensory stimuli provokes a fight-or-flight reaction. This is also known as sensory overload.
Sensory defensiveness can vary between individuals:
1. The senses that are problematic for one person may not be so for another. (Commonly, individuals report major issues with two or three senses and minor issues with the other senses.) 2. How easily and the way in which a particular sense bothers individuals varies (e.g. high-pitched noises may annoy someone, or they may hurt his/her ears; touch may provoke anxiety, or it can be painful).
3.The triggers for a particular sense vary between people (e.g. one person may be sensitive to the texture of mushy foods, while another may be sensitive to crunchy foods). "
so, for ashlyn, just about EVERYTHING is overwhelming in some way or another. we did do therapy for a while at the children's hospital, and she was in a special needs classroom last year, but she still struggles. and that means our whole family struggles. it's stressful and change is difficult, even when it's extra days off from school.
on days like today, i just need to look at her simple note that tells me........she's okay. and pray that we are doing all we can to guide her as parents and get her the help she needs. this parenting business is HARD.
anywho............on a lighter note, LOL...........how's about a giveaway!!!
you know the drill---leave a comment.