EVIDENCE:
Exhibit A: Ashlyn's Christmas List.
Found: On the floor in my Studio.
Reference: Items numbered 23, 24, 25 and 26.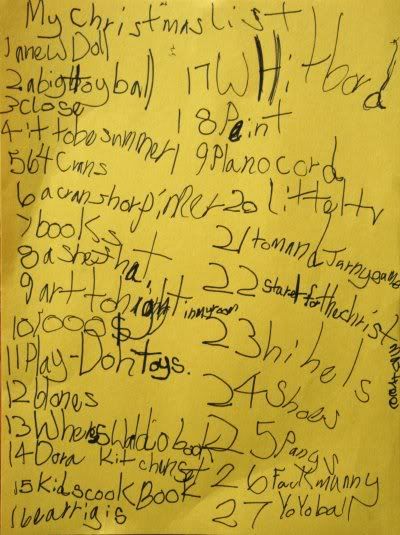 Translation for those that don't read kid scratch:
23. hi-hels (as in shoes, hi-heels)
24. shoes (but NOT hi-heels, just shoes, ya know)
25. panys (underwear, non-specific)
26. fack money (aka. fake money)
anyone feeling the urge to contribute to my therapy fund, i gladly accept paypal. hahahaaaa. just kidding.
but seriously. would that not make your heart skip a beat? my not-even 7 year old is asking for hi-heels??? and immediately after, pannys (misspelled purposely), and FAKE MONEY!?? oh my word. i promise she's way more wholesome than it appears.
reality is, she loves to role-play and wear costumes and dress-up like a pretty princess. so i think i'm good. but for a minute there, i won't lie, i questioned my mothering abilities.
and just for my reference for when i go to scrapbook this list.....
1. a new doll (3 ft raggedy ann)
2. a big toy ball (like she used in OT therapy)
3. close (clothes)
4. it to be summer (gonna have a problem with this one)
5. 64 crans (crayola)
6. a cran sharpinner (to make them pointy again)
7. books
8. a shef hat (so she can be an official cook)
9. art to hight in my room (she wants art to hang on the wall)
10. 1000$ (uuuuuuuh. can this be on my list too!)
11. play-doh toys
12. blones (the latex things that float---balloons)
13. Whers Waldo book (ah, Waldo.)
14. Dora Kitchen Set
15. Kids Cook Book (HELP me out here.....any good titles you know of?)
16. earrigis (yes, her ears are pierced. since 10 months old)
17. whitbord (dry erase board, a HUGE one)
18. paint
19. piano cord
20. little tv
21. tom and jerny game (tom & jerry. don't think they make games?)
22. star for the Christmas tree
23. hi hels
24. shoes
25. panys
26. fack money
27. yo-yo ball (yeah, they're SO cool!)
*******************************************
and the lucky winner of the WREATH is: NANCY!!!
nancy, please email me at taniamwillis at (yahoo.com) with your mailing address and i'll get in it the mail right quick.
and today's giveaway is:

a pack of DCWV stitching rub-ons, a pack of BasicGrey rub-ons, a Karen Foster rub-on word, a sheet of 7gypsies HOME stitckers, annnnnnnnnnnnnnnd a yo-yo Ball!