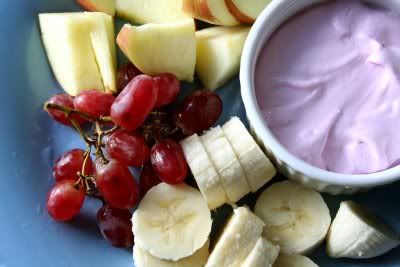 ya'll don't mind if i do a little post and run today do ya? it's quite the busy morning round here, so hows about a recipe share and i promise to make up for the lack of a real post tomorrow? okay. thanks. i knew you'd understand.
oh, wait, before i run........a few things.
1. Welcome all new readers making their way from
Heart of the Matter
. Make yourself cozy, poke around a bit, and email me if you have any questions.
2. Meghan warns......don't try to melt crayons in the microwave. big no-no. you'll be sorry if you try. Meghan, i must confess.....just the thought of it made me laugh. Don't hate me. heehee.
3.
Sharyn
thinks she's boring, but i think just the opposite. She's always melted down all of the same color broken crayons to make chunks of yellow, or red, or.......you get the idea. Especially a good idea for chubby toddler hands still learning colors. Why didn't I think of that!?
4. Yo-Yo Balls.........don't try ToysRUs. they are SO not helpful. GO TO TARGET at the checkout lanes. They have GOBS and GOBS of them! $3.99. So even a dollar less than that not so helpful toy store. I even grabbed an extra to put with a giveaway in the next few days! I'm helpful like that. *smile* Aren't you excited? LOL.
5. Someone asked.......did you make that monkey on your sidebar? why yes.........i did. AND, you can too. Join me in January at
debbiehodge.com
for my online class called
Embellishments: Beautifully Handmade
and learn exactly that, how to make your own embellishments for a fraction of the cost of purchasing the mass-produced, overpriced ones. More on that later.....but registration is open now!
okay, the recipe:
FRUIT DIP
1 container yogurt....flavor of your choice, i prefer strawberry (4 or 6 oz is fine)
3 oz of cream cheese, softened
1 small jar marshmallow creme (i think it is 7 oz.)
8 oz cool whip, thawed
Combine cream cheese and marshmallow creme on medium speed with your mixer until smooth. Then fold in yogurt and cool whip. Serve with bite-sized pieces of fresh fruit. Also tastes great with pretzels dipped in it.
This recipe is perfect for a Christmas morning brunch. It also packs well in a lunchbox with some fresh fruit. Also, I have substituted go-gurt tubes in place of the yogurt....just use 2 tubes.
ENJOY!!!
********************************
the winner of
debbie's
book is: Robin V.
Robin, please email me at taniamwillis at (yahoo.com) with your mailing address and i'll get the information to debbie so she can mail out your book!
16 days until Christmas!!!
are you in a panic yet? i'm totally NOT. i'm so enjoying this holiday season. we've only purchased a few things, and we've focused a LOT on just being together.
today's giveaway is: a 4 in 1 stamp kit. inside is a full set of stamps like the alpha shown on the front and a CD that has digital patterned paper images, fonts and more. AND a few sheets of epoxy stickers and a coordinating set of alphabets!