(linda and sara......please email me so i can send your prizes out. thank you.)
i could see it in her eyes when i took this picture the other day. that's how i know they are falling ill.....it's in their eyes. they look bleak and hallow and dark underneath.
she woke up yesterday with a low grade fever, so i gave her some motrin and sent her to school. she runs low grade fevers a lot. so i wasn't too concerned. then, about 3:30 the call came to pick her up. she had a 103.9 fever. i should mention that there was a lovely note on the door last week saying a child in her class has a confirmed case of strep. *sigh* oh, and the stomach bug is going around something fierce.
so today i'm home from work and we'll visit our doctor only because it's the holiday. usually i'd play the wait and see game, but i don't want to be stuck in the ER on Christmas. if it isn't strep, it could be her ears. hard to tell now since her tube surgery.....since she'll have no pain with infections while they are in place. don'tcha just wish they came with a teleprompter screen spitting out info so you never have to guess? i do.
i'm seriously bummed that she's sick. we're going to have to figure out something creative for tomorrow night's festivities at Grandma's house (little grandma with the crumbles (wrinkles) on her face, as ashlyn so lovingly calls her). i can't miss it. she'll leave the day after Christmas to head to Florida........until after Easter. i'm tearing up just thinking about it. ashlyn took this picture of her.
moving right along. here's an idea for those of you still wrapping..........repurpose some of your scrapbooking supplies as gift wrap. a single sheet of 12x12 works perfect for a CD, or giftcard tin. i'll be doing this today, since i stopped yesterday and bought those 4 last gifts----giftcards. again.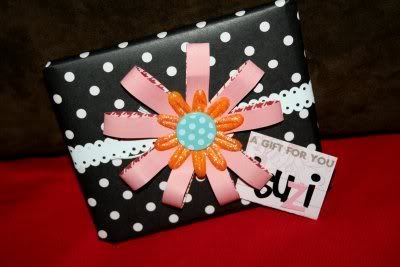 anywho.
wishing i had a huge stash of pom-poms today so i could finally make one of these pom-pom garlands. oh, wait! i should probably spend some time working on that list.........especially the wrapping. Oy! am i the only one not done!? oh, wait......i should ask........am i the only one not yet started!?????
************************
winner of yesterday's prize is: WANDA!
email me at taniamwillis at (yahoo.com) with your mailing address.
only 2 more days until Christmas!!!!!!today's prize:
pre-cut bazzill cardstock ready for cardmaking, rub-ons, A-Z & 0-9 transparent sheets, some envelope labels/seals, some Prima flowers & butterflies, a few pieces of raw chipboard shapes.