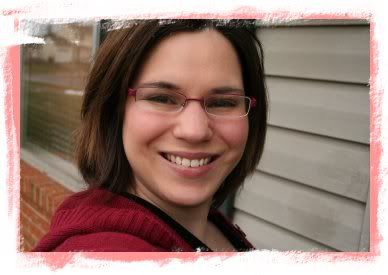 like my new specs? they're pink. and i love 'em. i figured since most of the time when reading or doing computer work it was like looking through a thin layer of clouds that it was about time to get the eyes checked. they couldn't believe that i drove without corrective vision. hah. "that bad, eh?" i asked. i've had them for 3 weeks now. it's amazing how much more detail i have visually now. imagine that.

still didn't get any wrapping done yesterday. it's still on the list. but i'm not stressing over it.

yet.



speaking of the list. i did manage to get a tutorial done for that class.

YAY!



speaking of that class. you still have time to enter to win a free pass. click here and comment on that post. you don't have to do all three things. just commenting gives you a chance. the other things give you extra chances.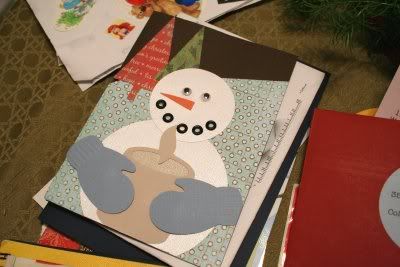 saturday night after attempting to wrap, i came home to the munchkins giddy over their cousin coming to play and sleep over. while they were chasing monsters in the dark with flashlights, i had a few minutes to gather all the cards and photos we've received and look a little more closely at them. that one up there..........it's my favorite! you can't tell in the picture, but the snowman is made from the shimmery bazzill cardstock.

i LOVE it.

thanks to sharyn and that class she's teaching, i'm seeing the season in a whole new light. saving and celebrating all the souviners of the season. so, i'll be keeping that card up there and recycling it to use as a cover for a mini album. if you're not taking that class, you're surely missing out. she tells me it isn't too late to sign up either.

speaking of sharyn. her husband has some talent of his own. carving wood. i was thrilled i was quick enough to email for one of the ornaments he put up for sale. this lovely guy is going to be mine very soon. so quirky and cute. and handmade. you can see more of them here and here. aren't they fabulous?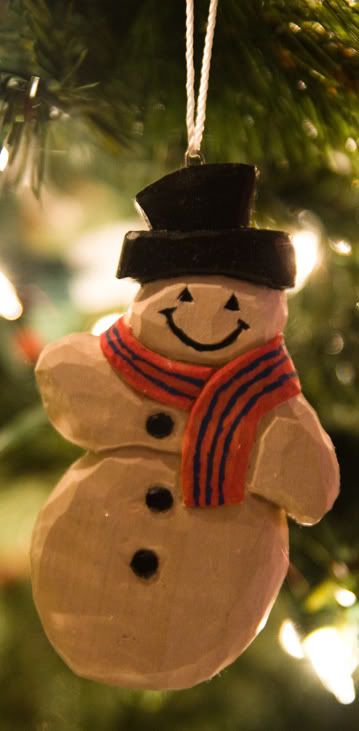 speaking of ornaments. my step-mom has a tradition of buying her kids an ornament every year for christmas. it's always one that represents something that happened during the year, or relating to an inside joke of some sort. they are now graduates from college and out on their own and she sent them off with their ornaments for their own trees this year.
speaking of traditions. i totally adore that tradition of hers. so this year, i'm starting it for my kids. actually, our whole family. doug will buy one for me and me for him. i'll share pictures later in the week. can anyone guess what emma's ornament will be? hehehee.
what else? ummmmm, working extra hours this week, thus the reason the blog is a bit delayed. between dropping the kids off and starting work i'll try to hit one store for a quick gift.

speaking of gifts. still have 4 people to buy for. the ones who have everything and need nothing and give you no ideas at all. they'll get gift cards. again. for the 15th year in a row. oh well. at least they'll love what they get since they're picking it out themselves.

still haven't made our annual gingerbread house. i'm thinking that will be a fun activity to do at home with the kids the day after christmas.
still haven't put up that second Christmas tree. doug's considering having it up and ready to decorate before picking the kids up today.....as a surprise. ashlyn wants it in her room. it usually goes in the playroom.
that's all i got for today. happy monday friends!

*********************
winner of yesterday's prize pack is: Tonja Trump!!!
email me at taniamwillis at (yahoo.com) with your mailing address Tonja.
and today's goodies: 2 packs of 24 sheets of double-sided decorative edged patterned papers, 1 CD minibook, 1 set of cling alphabet stamps, a couple sheer journaling spots and a roll of ribbon!