at this point my family that reads here are probably rolling their eyes, saying "enough already with the scrapbooking, tania marie." i promise it'll return to business as usual with lots of fun family updates.........soon. soon-ish.
i've got a few awesome things to share today:
chat. tonight. 9pm. are you going to be there? details in yesterday's post. don't forget to register a username first.
i am SOOOO very thrilled to be guest designing for Emma's Paperie this month. click the link to see some lovely projects......all month long. oh, and there's also more goodies to WIN. a bundle of some of my favorite things! go now.
today, i got the okey-dokey to share some peeks of all the blood, sweat, and yes, sometimes tears that have been my existance these last few weeks. i think my body is converting to robot status. at least it feels that way. eat, sleep, scrap, eat, sleep, scrap. heh.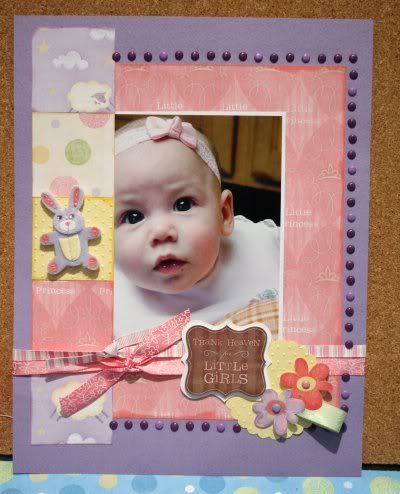 anywho. i'll get on with my point. one of the teams i design for, Karen Foster Design, is coming out with lots of exciting products and fourteen brand new themes that will be released at the CHA 09 Winter Show in Anaheim, California…but you don't need to attend the show to see them all, because starting today each of the Design Team members will be showing samples on our blogs as well as holding a daily contest where you can win that day's brand new products! All you need to do to enter the contest is to leave a comment on the specified blog entry by the deadline indicated and the winner will be selected at random – please enter only once per theme and international entries are welcomed.
i'll attempt to post a link to the blog that is hosting the contest each day. at the end of my regular daily post.....much like i did with the daily giveaways in december. today, you'll want to visit Alice's blog for your chance to win. TOMORROW, the goodies are right HERE, baby!
guess what!? it's snooooooooooowing! and it's such a pretty snowfall. nice and soft, delicate snowflakes floating to the ground. it's so beautiful out (not so fun to drive in though). it's been snowing this way since 9 o'clock this morning.
AMERICAN IDOL is on the air again!!!!!!! this is the only thing i watch on TV, aside from the occassion Design on a Dime or Decorating Cents (both home decorating shows). it's another something we do as a whole family. ashlyn was holding her head in her hands last night, distraught over some of the ridiculousness of those auditioning. i'm a bit disappointed with the drama on Idol though. it's getting to the point that i almost am afraid to let her watch it without me first previewing it. stupid thing called ratings. bah.
nothing much else to say today. it's been a crazy one and i need to go get myself a list made and start plugging away at it.
here's a bit more eye candy...........can you tell i love me some cuttlebug action? that Swiss Dots embossing folder is absolutely delicious.
that layout above is a photo of emma as a baby using the new Karen Foster Baby Girl theme. here's the detail shots of that same layout. my appologies for the terrible lighting on the photos. that's what happens when you're photographing at midnight to meet your deadline.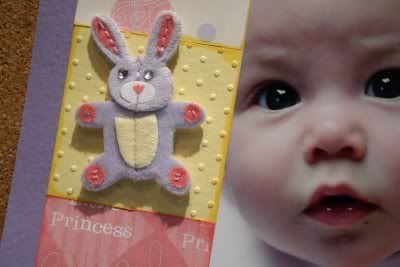 here's one of ashlyn as a baby, same products......and i still can't believe she's almost SEVEN. how did that happen???
and this was little miss ashlyn again. about 3 months old. she was my little peanut. so tiny until about 6 months.
and these pearl brads.........swoooon.