today's the day for more peeks! and it's all about the
Spring collection
being released by Karen Foster Design at the trade show that opens TODAY in anaheim, CA.
this one is of my sweet ashlyn---photos taken when she was 6 months old. i can't believe that she'll be SEVEN tomorrow. seven!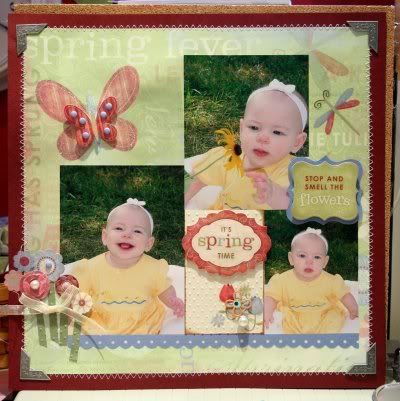 this collection has such pretty colors, not too pale, not too bright. mauves, greens, periwinkle.....and those gorgeous pearl brads. loooooove those.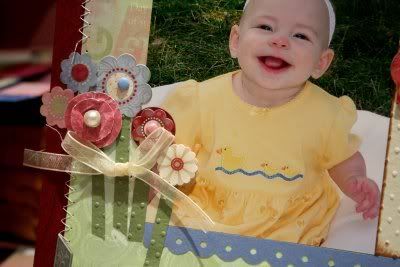 i also love how the cardstock stickers & clear stickers mimic patterns in the paper making it perfect to stack them right on top using some 3-D foam adhesive. i also added some Stickles glitter glue to the butterfly on the patterned paper.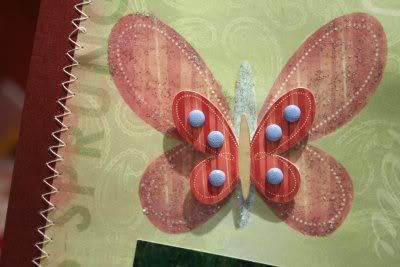 annnnnnnnd. the cuttlebug.....again. i need their people to call my people and work out a deal. hahahaaaaa. this shows the clear stickers and a few different kinds of their decorative brads.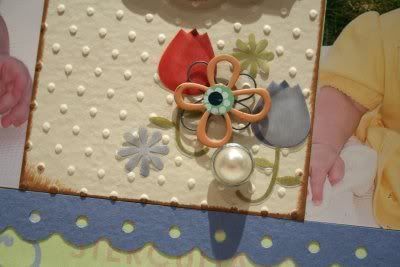 the collection also comes with this GORGEOUS stacked title sticker that has so many details and textures it can pretty much stand alone with your photos and carry the weight alone, needing very little other embellishments to complete your page. this is ashlyn again, spring 2006.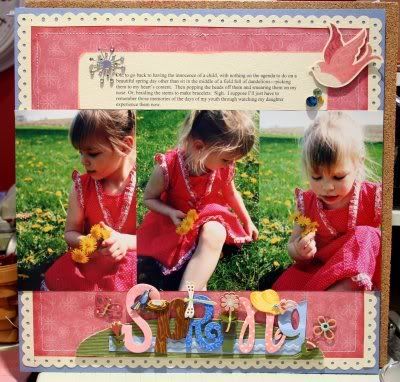 here's a closer peek.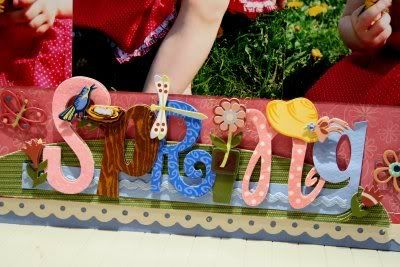 so, i did just that......added very few other embellishments. here is another sticker from the collection and a few of the rhinestone brads. their rhinestone brad assortments come with 3-4 colors in the pack in 3 different sizes---small, medium and large. the ones shown are small and medium.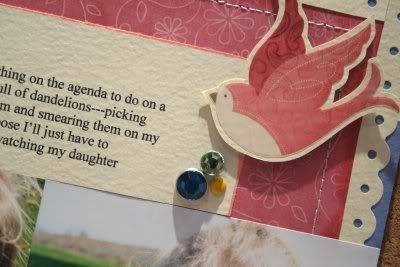 and i couldn't resist adding another one of those starburst brads with the tiny mirrors.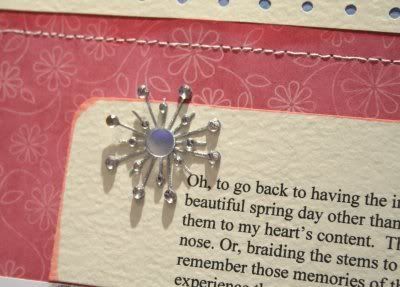 this last one is featuring the set of clear stickers in the collection. again, like i said, they mimic the pattern paper so very well. so i just layered them on the paper directly over the other image and it gives it a lovely gloss and darkens the colors just enough to catch your eye.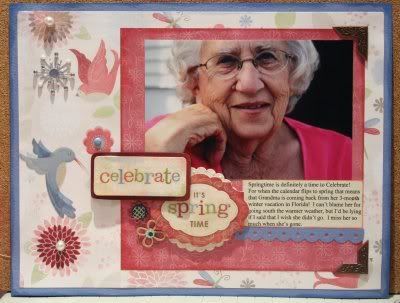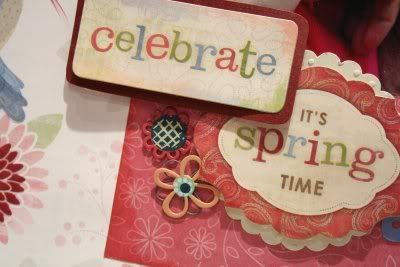 more examples using this collection can be seen on
Jen Gallacher's blog
and
Wendy Inman's
blog.
go to Wendy's blog
and leave a comment for your chance to win the entire Spring collection. you have until 11:59pm, EST on Monday, January 26th to comment.
good luck!
ps. jen peeked the
Mechanic line
yesterday and the drawing to win that collection is still open until 11:59PM tonight. go to
her blog
and leave a comment on the Mechanic post, posted Saturday for your chance to win!
international entries are welcome for all the Karen Foster Design giveaways!