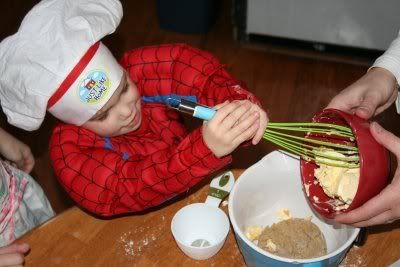 gooooooooooooooood morning, friends! and a good morning it has been so far indeed. i think in just the few hours i've been up and going this morning, those trying moments of thursday have melted away and are nothing but laughter material now. *contented sigh* that's really the only reason i post these stories---so later i can look back and laugh---and wonder how i survived. heh.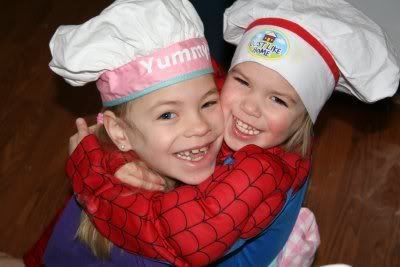 we're busy playing dress up, learning how to share, and taking turns, and being sisters without fighting, AND practicing our math skills while baking gingerbread men. who says it has to be christmas to bake gingerbread men? later is better than never in my book. my saturday couldn't have started any better!
a few things to share today........
FIRST.
the winner of the Equestrian goodies, courtesy of
Karen Foster Design
, drawn by random.org, is:
lwarren737
. please email me your addresss using that link under my smiling face --------> over there, and i'll forward it on to karen foster.
SECOND.
i've gotten tons of questions about my
Embellishments: Beautifully Handmade
class going on right now, so i thought i'd share here for those of you still on the fence and wanting some clarification. ready?
Q: How do i register?

You'll need to go to debbiehodge.com and register there. The direct link to the registration page is
HERE
.
Q: What does the $25 cost include?
The class includes 10 lessons, available in PDF form AND access to a private class message board and gallery where you can talk and share with myself and the other students enrolled. There will be a lesson posted every Tuesday & Thursday for 5 weeks. You will need to have Adobe Acrobat Reader installed on your computer. If you do not already have it installed on your computer, it's available for a free download.
Q: I see that class started on January 13th. Is it too late to register?

Is is NOT too late to register. The first two lessons are posted already, but you will be able to download them immediately upon registration. There isn't such a thing as being behind in an online class at debbiehodge.com.
Q: How does an online class work, i'm confused?

As mentioned, the class is available in PDF form. The PDFs include VERY detailed instructions along with supporting photographs to walk you through step-by-step of every process. ALSO, i am available on the private message board to supply you with even more additional samples showing you how to put the embellishments we are making to use in your projects (layouts/cards/home decor/etc.). The classes are posted twice a week (Tuesday & Thursday). You will come to the Blackboard area of our private board to download the PDF directly to your computer. You can view it directly on your computer, OR print it and take it with you, AND you can save it to your computer to refer to over and over and over again. They are posted by 9AM, EST on class days.
Q: Do I have to be there on the exact day the class is posted to be able to get that day's lesson?

NO. the beauty of an online class is that you can make it fit YOUR schedule. the lessons are posted and will remain posted on the private forum for AT LEAST 3 months.
Q: What if i get confused and have questions once i'm in the class?

We have a private message board for you to talk and communicate with me through the entire 5 weeks....and beyond. You will also be able to share and communicate with the other students in the class. I also welcome questions through email also.
Q: What if i have dial-up service? Can i still take the class?
Absolutely. If the files are too large to load online or loading is too slow, we will accomodate and email you the files instead. Then you can still come over to the message board for all the chatter.
Q: How much sewing is involved? Do I have to know how to sew?
Absolutely, not. There are no pre-requisites to this class. We will not be using a sewing machine, but we will be using some minor hand-stitching. In the tutorial, i use the assumption that you have never sewn anything by hand before and am very descriptive in mentioning, dominant hand/non-dominant hand. Left-handers won't struggle at all. I'm left-handed myself.
Q: What supplies will i need?

a complete supply list will be provided upon registration, but they are all basic scrapbooking supplies and basic crafting supplies (felt/fabric/buttons/floss). Some supplies are even available at your local dollar store. many students have said they didn't have to go out and buy a single thing. it's all common items.
Q: What other perks are there to your online class?
upon registration, you will recieve a coupon code good for 20% OFF, your ENTIRE purchase at
http://www.scrapsupply.com/
, good for you to use up to THREE times. also, in addition to the 10 lessons, I have bonus materials to post throughout the class. AND GIVEAWAYS. ya'll know how much i love giveaways! :o)
Q: What exactly will we be making?
we'll cover many topics for handmade embellishments....crafting with fabric, felt flowers & accents, epoxy buttons, paper piecing (the MONKEY) and MUCH more, here's a sneak peek.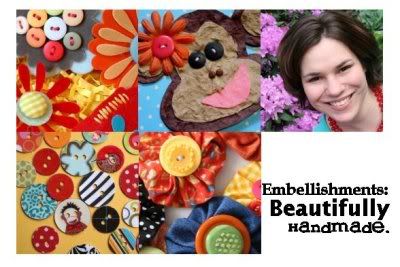 if you still have questions that weren't answered, please email me and i'll get back to you right away! the email link is --------------> over there under my photo.
*******************************************
today, the karen foster design team is peeking projects from the LOVE collection. click
HERE
to see all the products for that. you can see samples on these blogs:
Alice Golden
,
Jen Gallacher
,
Wendy Inman
and
Maryfrances Fabbri
.
the giveaway today is the entire LOVE collection. Wendy Inman is hosting the contest today.
Visit her blog to enter!
i'll be peeking more projects here on my blog for Karen Foster on Wed, Jan 21; Sun, Jan 25 and Tues, Jan 27. still waiting to hear when i can peek Little Yellow Bicycle projects. and for those of you that mentioned, there are not any new Daisy Ds products to be shown, as they are currently looking for a buyer and not in manufacturing mode.