so, yeah. it takes me forever to resize photos for this thing and i'm not gonna lie, by the time i resized 12 of the disney on ice photos, i kinda lost my energy to get them posted. ooooops, sorry. i know you're all sitting on the edge of your seat waiting to hear about it. heh.
kidding.
the night was FANTASTIC! and a total treat!
the girls were both jumping out of their skin the moment they walked in the door from school knowing that it was a special night. honestly i think they were more excited to see papa, than going to the show.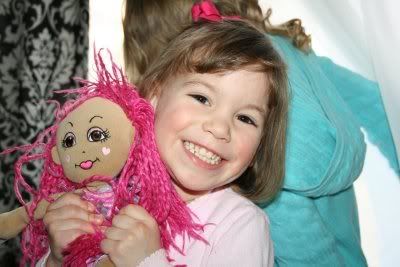 somehow, i got spidergirl into a dress without any negiotiating. SCORE! then she asked for tights and dress shoes. then she wanted her hair curled. then she wanted a bow in it. oh my, i was elated to get to dress her up like a little princess going on her first date. she just glowed and pranced around saying "look, i'm a ballerina." it was a pink dress and the bottom had a layer of tulle as an overlay. and the whole night she acted like a princess......until we got home. it was like the dress had some magic ability to make her sweeter than sugar. i mean she smiled for this photo and everything---something that's been almost impossible lately. i have some awesome pictures of her pouting though.
anywho. the little diva girl wanted nothing to do with a dress or skirt. how ironic? usually you can't find her in anything but----well, unless her skinny jeans are clean. she's in a huge 'do it myself' stage and none of mom's suggestions are even worthy of lending an ear to. but she does pull together awesome outfits so i can't complain too much. other than, my girl is growing up waaaaaaaaaay to fast. is there a way to slow it down? it just kills me that she doesn't 'need' me anymore. i convinced her that her hair would look lovely with curls and she obliged....reluctantly.
they had no idea what was coming next. at 5:30pm this 14 seat stretch Hummer limo pulled up to escort us to Disney on Ice. papa spoiled them rotten thanks to a business connection he has. talk about a sweeeeet ride. the driver took a photo of us standing in front, but it didn't turn out. so i have to see if my step-sisters did. i snagged this from the limo service's website.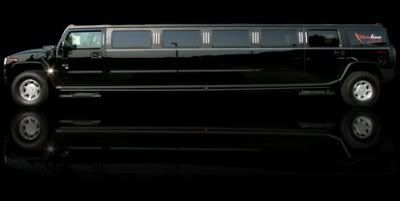 at this point ash is a little apprehensive. with her sensory disorder she doesn't take to new situations or suprises very easily....but it was something i knew she wouldn't struggle too much with.
you could tell she was uneasy on the drive there since she sat still holding her baby tight and sucking her thumb. this is something she does only when she's tired or feeling uncomfortable about a situation.
it didn't take long for her to realize it was a safe place and meant to be fun. that's when she found all the gadgets to play with in the limo. XBox, Disney channel on the tv, ability to operate all the controls, dim the lights, change the color of the lights, tell the driver to go wherever you wanted, etc. then it became fun. especially when she said..."i'm hungry, can i have some fry fries from McDonald's?"
and so it goes. the driver took her to the nearest McDonald's, parked the car, and Uncle Joe escorted her out while the driver stood as bodyguard by the car door waiting for them to come back. i cracked up laughing knowing that the only other time i, myself, have been in a limo was after my wedding and we went through the drive-thru of Burger King just to get a glass of ice water because my eyes were burning and swelling shut from the birdseed incident. but that's another story for another day.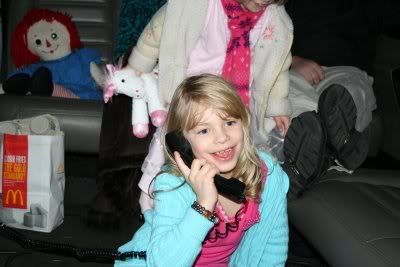 fry fries did the trick to bust her out of her shell and help her with the sensory overload. it wasn't long before she was trying out every seat and pressing every button.......then she discovered the phone. mr. limo driver heard lots of kid chatter during our drive. they were amazed with everything----but most of all, the phone and the partition between the back of the car and the driver. up, down, up, down---the window went.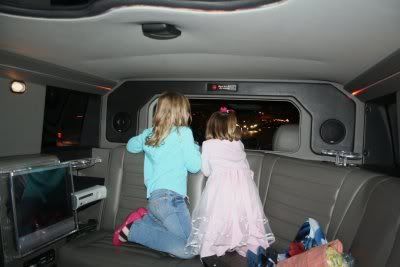 the two of them spent quite a bit of time telling the driver about every little detail of their day and he entertained their conversation with talk about all the Disney characters and who was their favorite and wondered if Shrek would be there.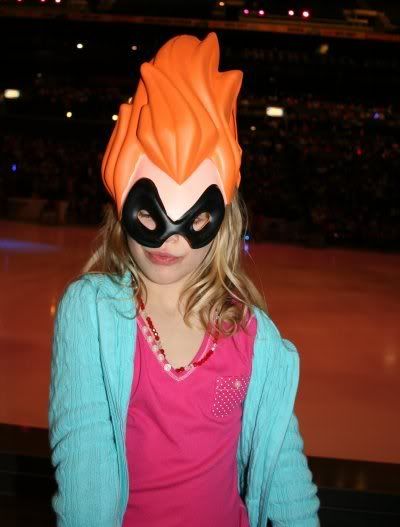 when we got to the arena, emma couldn't make it past the snowcones before catching our seats. and she was begging for another one before we left. she got shot down. they get ya on all those souveniers. ashlyn ended up with this mask attached to the end of a giant bag of popcorn. and both girls came home with an incredibles light-up wristband from Aunt Erin. ash also bought a coloring book---which will go to good use---and emma bought a buzz lightyear action figure. she's such a tomboy, that one.
ya know the only problem having front row seats at an arena is the path to get to they seats, LOL! so we marched down the steps---totally worth doing for the seats though---and made our way to the front row. that's when the show staff took our tickets and told us we needed to come down one more step to the RINK SIDE seats. we were literally 2 1/2ft from the ice, on the same level as the ice.
but 2 1/2 ft from the ice doesn't necessarily mean awesome photos. hahhaaa. i think i took over 500 photos, but maybe 20 are keepers----only after lots of photoshopping. remember, i'm not a photographer. i take photos, but half the time don't know what i'm doing. the lighting and speed of skating changes so frequently in the show that i was difficult to get the settings on my camera because in a matter of seconds it was all changing again. and i totally could have taken my tripod because the guy 3 seats down from me had a mega professional camera and he wasn't even questioned once. i had some serious camera envy. shame on me.
the Incredibles were incredible and put on an incredible show! they surely didn't disappoint. the facial expressions on the skaters were phenomenal. the whole show emma kept asking me to take a picture of each of the Incredibles so that she could put it in a frame in her bedroom beside her Superman. she's so fascinated with superheros.
Donald seemed to be a favorite among the crowd.....and easiest to photograph.
and these creatures from the Jungle Book were the most difficult on the eyes. ick. they were just creepy. emma leaned over and said "mommy, are they robots?" i replied, "no, honey, they are just people in a costume." and later realized that she was hoping they were robots and not real creatures.
these really were robots.......and the synchronized skating they did was spectacular!
these dudes from Alice in Wonderland were my favorite. just because they were so fun to look at.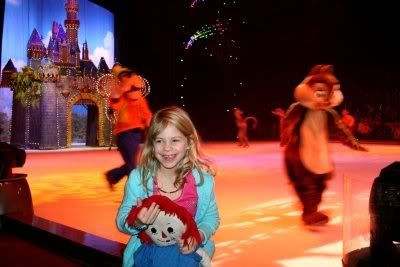 and ashlyn looooooooooooooooooved the chipmunks.........(is it bad that i almost typed Chip & Dales? oh.my.word.). and by the end of the show she was begging me to take her to the iceskating rink so she could learn to iceskate. she was inspired.
the icing on the cake for the trip for me was on the way home. on the way into the arena, i was tempted to get a Starbucks coffee located right outside of the arena. but, i wasn't sure if they'd let me in with it, so i opted to grab one on the way out. well, i forgot. no big deal. i can live without my newly discovered favorite which i can barely remember. i don't go to Starbucks but maybe 3 times a year. anywho. i just discovered that i looooooooove the Grande Pumpkin Spice Latte, with only 1 shot of expresso, DECAF, with 2%milk, no whip, extra hot. and it was freeeeezing.
long story short, i forgot to get my Starbucks and ashlyn remembered. so she got on the phone with the driver and said "my mommy needs Starbucks." hahhaaa. the driver found a Starbucks in the area and drove over there just for me. just a little something that was totally unneccessary, but made me feel super special.
that was our disney adventure in a nutshell. and about the closest i'll ever get to experiencing disney for a loooooooong time. can you believe i've never been to disney? never ever. i wanna go before i die. for sure.