my talented friend and AMAZING teacher,
pattie
has got one heck of a giveaway going on for those who register for her upcoming class, starting tomorrow:
and all who are registered by
midnight EST, March 8, 2009 (that's TODAY!)
will be entered in a drawing for the
Bamboo Craft Digital Tablet
limited edition bundle of software, lessons, & digital goodies.
Mad Digital Skillz:
"Learn how to use digital products (including the awesome collection from Pattie's friends at Designer Digitals) to the max. If you've been avoiding masks, wondering what more you could do with digital brushes, thinking there must be a way to make that paperclip attach more realistically, or questioning any number of product possibilities, then it's time for the "mad skillz" challenge."
and here are some of the products from DesignerDigitals.com that you'll be using in class (included as part of the class fee).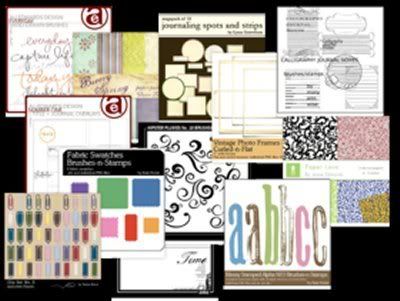 hurry, hurry!
i'll be back in action tomorrow with lots of blogging. i've got my hands full with loads of deadlines right now.......and working on a new class myself. stay tuned.